Korea to Launch Naro Rocket for 3rd Attempt at Orbit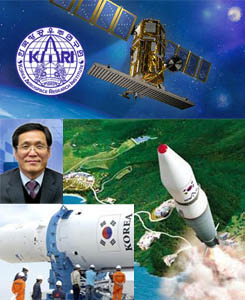 The Korea Aerospace Research Institute (KARI) has set a launch window of October 26-31 for the 3rd Mission of 140-ton Naro-1 (KSLV-1) rocket, which relies on an indigenous solid-fuel second stage and a Russian-supplied Khrunichev State Research and Production Space Center-built first stage. The Ministry of Education, Science and Technology announced that the launch would take place at the Naro Space Center in Goheung 480 km south of Seoul, likely between 15:30 and 19:00 KST, as up to 8 hours are required to ready the rocket on launch day. KARI President Seung-Jo Kim leads about 1,000 people working directly on the Republic of Korea space program with a 2011 budget of US$240M. While the current Naro rocket has a payload capacity of only 100 kg, Kim indicated that the KSLV-2 being developed for launch in 2021 will be able to take 1.5-ton satellites to Low Earth Orbit. Not interested in launching just commercial satellites the Institute also has scientific space exploration objectives, including launching a probe to lunar orbit by 2023. (Image Credit: KARI)
LEAG: Exploration in the Near Lunar Future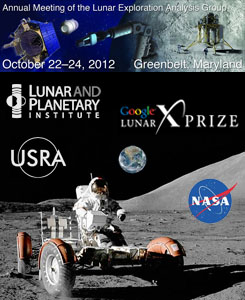 The 2012 Lunar Exploration Analysis Group Annual Meeting on October 22-24 in Greenbelt, Maryland, USA marks one of the most exciting times in lunar exploration. Many commercial and international lunar missions are in progress including Lunar Atmosphere and Dust Environment Explorer (LADEE) and Chang'e 3 lunar lander / rover preparing to launch in 2013, US$30M Google Lunar X PRIZE and 4 current NASA lunar missions with 5 USA orbiters. Marking the 40th anniversary of the end of the Apollo program, LEAG will co-sponsor this 6-session event with Universities Space Research Association, Lunar and Planetary Institute and NASA. More than 50 speakers will discuss, among many topics, lessons learned for future missions, human / robotic exploration technologies and options for the next decade. On Tuesday the "Lunar Missions: The Next Generation" session will incorporate 10 speakers including Bob Richards of Moon Express, Red Whittaker of Astrobotic Technology Inc. and Clive Neal of NASA Lunar Science Institute. The final session on "Human Exploration of the Moon and Gaps in Our Strategic Knowledge" highlights chemical reactivity of lunar dust, resource prospecting and lunar water and volatile location / extraction. There will also be a Visitor's Center Tour of the NASA Goddard Space Flight Center focusing on the Lunar Reconnaissance Orbiter. (Image Credit: USRA, GLXP, NASA, LPI, LEAG)
---


= All times for terrestrial events in local time unless noted.

= All times for international terrestrial events in local time unless noted.

= All times for space events, and…

= All times for international space / astro events in Hawaii Standard Time unless noted. Add 10 hours to obtain UT ('Universal Time;' Greenwich, England).
---
Weekly Planet Watch – Evening Planets: Mercury (SW), Mars (SW), Jupiter (ENE). Morning Planets: Venus (E).
---
MONDAY

Oct 22 — ISS, LEO: Expedition 33 members preparing for next spacewalk to repair ammonia leak of P6 truss radiator, continuing scientific experiments, routine maintenance and upkeep duties for ducts, fans, sensors.

Oct 22 — WISE, LEO: In 525-km polar orbit circling Earth 15 times a day, Wide-field Infrared Explorer detailing Trojan Jupiter asteroids for clues about quantity, composition, potential origins and taking snapshots every 11 seconds.


Oct 22 — New Horizons, Pluto Trajectory: Traveling about 48,280 km per hour towards Pluto, hibernating and collecting data on interplanetary space; scientists determining whether change of trajectory necessary due to newly discovered moons / debris.

Oct 22 — Blue Origin, Kent WA: Analyzing data from thrust chamber test-fire of 100,000-pound thrust, oxygen-hydrogen liquid fueled rocket engine, developing New Shepard system and Crew Capsule for suborbital journeys.

Oct 22 — Stratolaunch Systems Inc., Huntsville AL: Constructing custom composite wing and fuselage sections for carrier aircraft to be built by Scaled Composites to launch medium class commercial / government payloads to space by end of 2016, then humans.


Oct 22 — Planetary Resources Inc., Bellevue WA: Developing Arkyd Series products for surveying, prospecting and collecting data on asteroids at various distances from Earth; beginning with Leo Space Telescope, estimated launch June 2013.

Oct 22-23 — The World Technology Network, TIME Magazine, Fortune Magazine, CNN, et al, New York NY: 'The World Technology Summit & Awards (2012).'


Oct 22-24 — Lunar and Planetary Institute, Greenbelt MD: 'Annual Meeting of the Lunar Exploration Analysis Group.'

Oct 22-24 — The Norwegian Space Centre, The Swedish Institute of Space Physics, Finnish Meteorological Institute, et al, Oslo, Norway: 'Space Weather and Challenges for Modern Society.'

Oct 22-25 — University of Maryland, NASA, Annapolis MD: 'Workshop: Nature's Particle Accelerators;' new observational results from spacecraft, ground-based facilities, advances in theory and modeling of acceleration mechanisms shed new light on particle acceleration.

Oct 22-26 — Italian Society for General Relativity and Gravitation, National Institute for Nuclear Physics of Naples, et al, Naples, Italy: '20th Biennial Conference of the Italian Society for General Relativity and Gravitation (SIGRAV).'

Oct 22 — Moon: Moon at first quarter, 17:33.

Oct 22 — Asteroid 2008 CT1: Near-Earth Flyby (0.067 AU).
---
Continued from…

Aug 30 – Dec 3 — GRAIL, Lunar Orbit: NASA Gravity Recovery and Interior Laboratory Extended Science Operations mission.

Oct 3 – Jan 1, 2013 — Ontario Science Centre Exhibit, Toronto, Ontario, Canada: 'Beyond Planet Earth: The Future of Space Exploration;' future technologies on display including lunar elevator model, inflatable space living habitat and robotic submersible potentially useful in search for life on Europa.

Oct 17 – Nov 4 — OpenLuna Foundation Inc., Thornton CO: 'Launch the Launch;' volunteer organization seeks US$15K in pledges to enter NASA Nano-Satellite Launch Challenge.
---
TUESDAY

Oct 23 — RSA, Launch Soyuz / ISS 32S, Baikonur Cosmodrome, Kazakhstan: An RSA Soyuz rocket set to launch Soyuz spacecraft to the ISS with members of the next Expedition crew; 16:51 ALMT.

Oct 23-25 — European Space Agency, European Space Research and Technology Centre, Noordwijk, The Netherlands: 'ESA Workshop on Avionics Data, Control and Software Systems (ADCSS).'
WEDNESDAY

Oct 24 — Tuskegee University, Tuskegee AL: Physics Nobel Prize winner John C. Mather free lecture on Big Bang Theory and Hubble Telescope; 16:00 CDT.

Oct 24 — NASA, New Orleans LA: '2012 SLS Industry Day;' Space Launch Systems networking opportunity for NASA, small businesses and prime contractors; 07:00 CDT.

Oct 24 — European Southern Observatory, Garching, Germany: 'Reflex Workshop 2012;' free workshop to demonstrate / teach how to run Reflex, ESO data reduction pipelines for Very Large Telescope; 11:00 CEST.

Oct 24-26 — Max Planck Institute for Astrophysics, University of the Balearic Islands, et al, Palma de Mallorca, Spain: 'CoCoNuT Meeting 2012;' 5th meeting to discuss CoCoNuT code, a numerical code to study astrophysical scenarios, general relativity, gravitational waves, future developments.

Oct 24 — Moon: 5.8° NNW of Neptune, 02:00.
THURSDAY

Oct 25 — W. M. Keck Observatory, Kamuela HI: 2012 Astronomy Lecture Series: Ben Zuckerman (UCLA) presents 'Violent events in rocky planetary systems: Implications for the fate of technological civilizations.'

Oct 25-26 — NASA History Program Office, Arlington VA: 'Solar System Exploration @50.'

Oct 25-26 — University of Amsterdam, Amsterdam, The Netherlands: 'Workshop: Multi-object spectroscopy on the European Extremely Large Telescope.'

Oct 25-27 — European Space Agency, Italian Space Agency, Ibn Battuta Centre, International Association of Sedimentologists, et al, Marrakech, Morocco: '3rd Conference on Terrestrial Mars Analogues.'
FRIDAY

NET Oct 26 — Korea Aerospace Research Institute, Launch Naro Rocket / Scientific Satellite, Goheung, South Jeolla, South Korea: Third attempt to launch Naro Rocket with scientific satellite payload from Naro Space Center; launch window Oct 26-31.

Oct 26 — International Space Company Kosmotras, Launch Dnepr-1 / Multi-payload, Yasny Cosmodrome, Russia: Launch Dnepr-1 rocket to include 21 satellite payloads from various countries / organizations.

Oct 26 — Lunar and Planetary Institute, Houston TX: 'MESSENGER Observations of Mercury: From the Solar Wind to the Core;' presented by Catherine Johnson, University of British Columbia; 03:30 CDT.

Oct 26-28 — AIAA San Francisco Section, Silicon Valley Space Center, San Jose CA: 'Cubesat Hacker Workshop.'

Oct 26 — Moon: 4.8° NNW of Uranus, 19:00.

Oct 26 — Asteroid 162004 (1991 VE): Near-Earth Flyby (0.087 AU).
SATURDAY

Oct 27 — Sally Ride Science, Houston TX: 'Sally Ride Summer Festival;' to inspire 5th-8th grade girls with science, talk by astronaut Wendy Lawrence; begins 11:00 CDT.

Oct 27 — Space Foundation, Colorado Springs CO: 'Space & Science Fiction Halloween Ball;' fundraising event featuring dancing, classic sci-fi films, silent auction and prizes for best costumes; 18:30-23:30 MDT.

Oct 27 — SpaceUp, Institute for Space Systems, Fraunhofer Institute for Integrated Systems and Device Technology, et al, Stuttgart, Germany: 'SpaceUp Stuttgart;' the "unconference" where participants decide space issues / topics to discuss, schedule and structure of the event.
SUNDAY

Oct 28 – Nov 2 — NASA, Monterey CA: '4th International Fermi Symposium.'