Ad Astra Kansas Founders Meeting 2011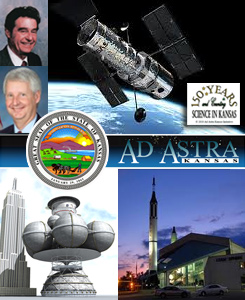 Ad Astra Kansas (AAK) will hold its 'Founders Meeting 2011' on November 4-5 in Topeka KS. The organization is dedicated to advancing a 21st Century vision of space and science development in Kansas, America and the World, using as its basis the Kansas State Motto, "Ad Astra per Aspera," or "To the Stars through Difficulty." Founded in 2001 by a group of citizens and educators, AAK has worked diligently to promote science / technology research, development and education. Its newsletter, AD ASTRA Kansas News, highlights the latest in Interstellar Research and Development. In 2003 it gained affiliate membership status with the Kansas Space Grant Consortium and helped form the observance of 'Ad Astra Kansas Day' in April, which coincides with the April 1990 deployment of the Hubble Space Telescope (TR) from Space Shuttle Discovery by Kansas Astronaut Steve Hawley (BL).  Since then, AAK initiatives continue advancing STEM education with the promotion of Galaxy Forums and various events held at the Kansas Cosmosphere and Space Center (BR). The AAK is currently sponsoring a sesquicentennial education project, 'Science in Kansas – 150 Years and Counting,' featuring trading cards of past and present individuals in science fields to inspire Kansas students and to honor Kansas' science legacy. Pictured: Kansas Initiative co-founder Randall Chambers (TL)). (Credit: adastra-ks.org, NASA, Adrian Mann)
China Advancing Human Space Program with Launch of Shenzhou 8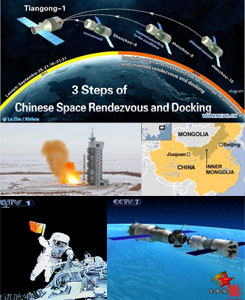 China will launch the Shenzhou 8 spacecraft in early November from the Jiuquan Satellite Launch Center in the Gobi Desert, about 1600km from Beijing. The robotic spacecraft will perform the 1st China space docking with Tiangong-1, or Heavenly Palace-1, which was launched on September 29 and is now in orbit 350km above Earth. Shenzhou 8 will feature a modified Russian androgynous docking module capable of coupling with Tiangong-1 in both manual and automatic modes. It is expected to conduct its first docking test with the 7.7-Metric Ton station 2 days after launch. This latest step in what will be a decade-long effort to construct a human-inhabited permanent space station in orbit will be followed by 2 more missions in early 2012. One of those missions is expected to be crewed, with astronauts expected to stay for up to 1 month. Shenzhou 8 will return to Earth in late Nov. (Credit: CNSA)
---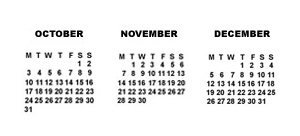 = All times for terrestrial events in local time unless noted.

= All times for international terrestrial events in local time unless noted.

= All times for space events, and…

= All times for international space / astro events in Hawaii Standard Time unless noted. Add 10 hours to obtain UT ('Universal Time;' Greenwich, England).
---
Weekly Planet Watch – Morning Planets: Mars (ESE), Saturn (SE) / Evening Planets: Mercury (SW), Venus (SW), Jupiter (ENE).
---
MONDAY

Oct 31 — International Space Station, LEO: E-29 crew members continue to prepare for arrival of Progress 45 cargo craft, which is scheduled to dock to the station's Pirs docking compartment on Nov 2, delivering 2.8 tons of food, fuel and supplies to the station crew members.

Oct 31 — NASA Lunar Reconnaissance Orbiter (LRO), Lunar Orbit: All systems nominal in scientific phase of mission as LRO continues to make digital elevation and terrain maps that will be a fundamental reference for future human exploration.

Oct 31 — Mars Rover Opportunity, Red Planet: Mars Rover Opportunity to trek to north end of Cape York on the rim of Endeavour crater where northern tilts are favorable for energy production; total odometry is 34.08km.

Oct 31  — Kennedy Space Center, Cape Canaveral FL: Media event to announce new partnership between Kennedy Space Center and an outside organization that will open NASA facilities to USA commercial space launch service providers at 10:00 EDT.

Oct 31 – Nov 4 — Ames Research Center, Stanford University, Stanford CA: 'Living with a Star / Solar Dynamics Observatory-3 / Solar and Heliospheric Observatory-26 / Global Oscillation Network Group-2011 Workshop: Solar Dynamics and Magnetism from the Interior to the Atmosphere.'

Oct 31 – Nov 4 — The Commonwealth Scientific and Industrial Research Organization, Parkes, Australia: 'Science Symposium: Science with Parkes @ 50 Years Young,' celebrating 50th year of the Parkes 64m telescope which has enabled world-class discovery.

Oct 31 – Nov 4 — International Academy of Astronautics, Research Center Project of San Marco, Nairobi, Kenya, Africa: '1st IAA-CRPSM International Workshop on Remote Sensing of the Environment for the Sub Saharian Regions.'

Oct 31 — Asteroid 2010 VU98: Near-Earth Flyby (0.046 AU).
---
Continued from…

Sep 22 — Space Adventures, NASA, ESA, JAXA, Online: Closing date submissions for 'YouTube Space Lab Competition;' through Dec 7.
---
TUESDAY

Nov 1 — NASA New Horizons Spacecraft, Deep Space: New Horizons Spacecraft continues successful trek to Pluto and is currently 21.85 AU from Earth and 10.8 AU from Pluto.

NET Nov 1 — CNSA, Launch Long March 2F / Shenzhou 8, Jiuquan, China: A Chinese Long March 2F rocket set to launch Shenzhou 8 on an unmanned flight to conduct the 1st docking between 2 CNSA spacecraft in orbit.

Nov 1 — Women in Aerospace, Arlington VA: '26th Annual WIA Awards Ceremony and Dinner.'

Nov 1 — Marshall Space Flight Center, Huntsville AL: 'Combined Federal Campaign Workforce Rally,' an annual goodwill drive to support charitable organizations at the local, state and national levels.

Nov 1-2 — JAXA, Satellite Systems International Committee on Global Mitigation, Jeju Island, Korea: '3rd Asia Oceania Regional Workshop on GNSS.'

Nov 1 — Mercury: 2.0° SSW of Venus; 13:00.
---
WEDNESDAY

Nov 2 — The Defense Advanced Research  Projects Agency, Dulles VA: 'Phoenix Industry Day Workshops.'

Nov 2-4 — Hawaii Institute of Geophysics and Planetology, WM Keck Cosmochemistry Laboratory, et al, Honolulu HI: '6th Biennial Geochemical Secondary Ion Mass-spectrometry (SIMS) Workshop.'

Nov 2-4 — European Cooperation in Science and Technology, Manchester, United Kingdom: '4th Working Groups Meeting: Black Holes in Orbit.'

Nov 2-6 — American Society for Gravitational & Space Biology (ASGSB), International Society for Gravitational Physiology (ISGP), San Jose CA: 'Joint Meeting of the ASGSB / ISGP 2011.'

Nov 2 — Moon: At First Quarter; 06:38.
---
THURSDAY

NET Nov 3 — RSA, Launch Proton / Glonass, Baikonur, Kazakhstan: A Russian government Proton rocket and Block DM upper stage set to launch 3 Glonass M navigation satellites or the Russian space agency.

Nov 3 — Space Enterprise Council, George Marshall Institute, Washington DC: 'Propulsion for the 21st Century: How Innovation Will Take Us Out of Low Earth Orbit,' with panelists Doug Cooke, Brian Duffy, John Vilja, Joe Cassady and Mike Raftery.

Nov 3 — The Planetary Society, The Mars Society, Washington DC: 'NASA at a Turning Point: Vibrant Future or Close Up Shop?'

Nov 3 — Goddard Space Flight Center, Greenbelt MD: 'Can You See it Now? Wavefront and Adaptive Optics Industry Day.'

Nov 3 — NASA Office of Small Business Programs, Herndon VA: '4th NASA Small Business Symposium and Awards Ceremony.'

Nov 3 — American Institute of Aeronautics and Astronautics – San Francisco, Mountain View CA: 'TechTalk: Team Phoenicia,' Will Baird.

Nov 3 — Space Transportation Association, Washington DC: 'STA Breakfast,' with Kennedy Space Center Director Bob Cabana.

Nov 3 — Taurids Meteor Shower Peak: Appearing to radiate from Constellation Taurus, the Taurids don't offer more than 7 meteors per hour and will make a faint appearance due to a bright waxing gibbous Moon.
---
FRIDAY

Nov 4-5 — Ad Astra Kansas, Topeka KS: 'Ad Astra Kansas Organization Founders Meeting 2011.'

Nov 4-6 — Astronomy Magazine, Sky & Telescope, Santa Clara CA: 'Advanced Imaging Conference 2011.'

Nov 4-6 — Astronaut Scholarship Foundation, Cape Canaveral FL: '2011 Astronaut Autograph and & Memorabilia Show Weekend.'
---
SATURDAY

Nov 5 — Zero Gravity Corporation, Atlanta GA: Commercial weightless flight on board G-Force One.

Nov 5 — Glenn Research Center, Cleveland OH: '19th Annual Young Astronaut Day,' over 350 students from 28 local schools and youth organizations to participate in fun and competitive events designed to stimulate interest in aeronautics, space science and engineering at 09:30-15:00 EDT.

Nov 5-6 — Planetary Exploration Research Center (PERC), Chiba Institute of Technology, Kitakyushu City, Japan: '2011 PERC Planetary Geology Field Symposium.'

Nov 5-6 — The British Interplanetary Society, Cosford, United Kingdom: 'The RAF Museum Cosford: Propulsion.'
---
SUNDAY

Nov 6-10 — European Southern Observatory, Paris, France: '21st Annual Astronomical Data Analysis Software & Systems Conference.'

Nov 6 — Standard Time (USA): Set clock back 1 hour from Daylight-Saving Time to Standard Time.