NPP Launch to Advance Transition to New Generation of Climate Satellites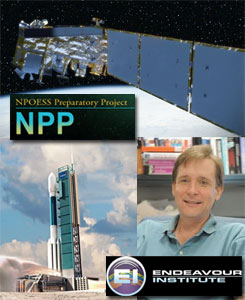 On October 28, a Delta 2 Rocket will carry the NPOESS Preparatory Project (NPP) spacecraft into an orbit 824km above the Earth.  NPP is the 1st Earth-observing satellite designed to measure both global climate change and key weather variables. Seen as a bridge between NASA's Earth Observation System of satellites and the planned National Polar-orbiting Operational Environmental Satellite System (NPOESS), the mission will provide agencies early access to the next generation of operational sensors. This new system will produce an order of magnitude more data than the current system. 5 science instruments will disseminate data on a variety of measurements, ranging from ozone layer and land cover to atmospheric temperatures and ice cover. NPP data will also help produce more accurate forecasts to help emergency responders anticipate, monitor and react to natural disasters. The 2132-kg spacecraft is set to launch from Space Launch Complex 2 at Vandenberg Air Force Base in California. It will orbit Earth's poles about 14 times a day, transmitting data to a ground station in Svalbard, Norway. NASA will host a Tweetup on Oct 24 at Vandenberg AFB to preview the NPP launch. There will also be a NPP Educator Launch Conference on Oct 26-27 at the Endeavour Institute in Lompoc, CA. Pictured: NPP PI Jim Gleason of NASA Goddard SFC. (Credit: NASA, Endeavour Institute)
1st Planetary Cave Research Workshop Held in Carlsbad, New Mexico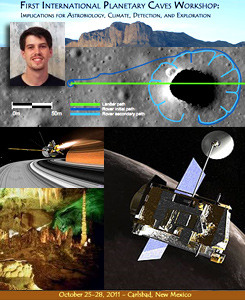 Planetary and terrestrial scientists interested in cave exploration and research across the solar system can attend the 1st International Planetary Cave Workshop on October 25-28 in Carlsbad NM. Sponsored by the US Geological Survey Astrogeology Science Center, Lunar and Planetary Institute and the National Cave and Karst Research Institute, participants will focus on the theme 'Implications for Astrobiology, Climate, Detection and Exploration.' Kevin Peterson of Carnegie Mellon University Robotics Institute will discuss current developments in modeling planetary features such as cave entrances and skylights using high resolution, color and 3D representations. Skylights, or dark holes seen on the lunar surface, may lead to large underground lava tubes. First discovered by JAXA Moon Orbiter Kaguya in 2009, these lava tubes could provide ready-made protection from the harsh lunar environment for future human return missions. Scientists will also discuss data from the Lunar Reconnaissance Orbiter Camera, orbital observations of Mars caves and results from Saturn Orbiter, Cassini.  The workshop will incorporate oral and poster presentations as well as a one-day field trip to Carlsbad Caverns, the 3rd largest cave in North America and the 7th largest in the world at 1,220m long, 191m wide, and 110m high at the highest point. (Credit: NASA, nps.org, Carnegie Mellon, Lunar and Planetary Institute, travelandtourismtoday.blogspot.com)
---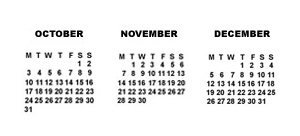 = All times for terrestrial events in local time unless noted.

= All times for international terrestrial events in local time unless noted.

= All times for space events, and…

= All times for international space / astro events in Hawaii Standard Time unless noted. Add 10 hours to obtain UT ('Universal Time;' Greenwich, England).
---
Weekly Planet Watch – Morning Planets: Mars (ESE) / Evening Planets: Mercury (W), Venus (WSW), Jupiter (ENE).
---
MONDAY

Oct 24 — International Space Station, LEO: E-29 crew prepares for 2nd orbital boost of the ISS on Oct 26 and undocking of Progress 42 cargo craft on Oct 29 for a fiery disposal over the Pacific Ocean.

Oct 24 — NASA Lunar Reconnaissance Orbiter (LRO), Lunar Orbit: All systems nominal in scientific phase of mission as LRO continues to make digital elevation and terrain maps that will be a fundamental reference for future human exploration.

Oct 24 — Mars Rover Opportunity, Red Planet: Scientists recently discover jarosite minerals in rocks analyzed by Mars Opportunity, which can only form in the presence of water.

Oct 24 — NASA MESSENGER, Mercury Orbit: Mercury spacecraft to conduct Orbit Correction Maneuver #4 (OCM-4).

Oct 24 — DLR Röntgensatellit (ROSAT) Satellite, Earth Orbit: Scientists tracking Earth re-entry of German ROSAT satellite, estimating up to 30 individual pieces of debris with a total mass of 1.7 tons to return to Earth at speeds of up to 450km per hour.

Oct 24 — NASA, Vandenberg AFB CA: NASA to host a Tweetup for 25 Twitter followers from 09:00-17:00 PDT for the launch of the first of a new generation of global Earth-observing satellites.

Oct 24 — Explore Mars, Webinar: 'Mars Education Challenge Webinar,' with winner of the 1st Annual Mars Education Challenge, David Black.

Oct 24 — Johnson Space Center, Houston TX:  NASA Extreme Environment Mission Operations (NEEMO) crew will be available for satellite interviews from 15:00 – 16:00 CDT followed by interview during an underwater simulated spacewalk with astronaut/aquanaut Shannon Walker at 13:00 to 13:30 on Oct 26.

Oct 24-26 — American Astronautical Society, Huntsville AL: '4th Wernher von Braun Memorial Symposium.'

Oct 24-27 — General Dynamics Information Technology, Atlanta GA: '2011 Commercial and Government Responsive Access to Space Technology Exchange.'

Oct 24 — Leo Minorid Meteors: A weak meteor shower appearing to radiate from Constellation Leo Minor, the Leo Minorids is best observed in the Northern hemisphere with a telescope.

Oct 24 — Comet 198P / ODAS: Closest Approach to Earth (1.217 AU).

Oct 24 — Asteroid 2003 FH: Near-Earth Flyby (0.065 AU).
---
Continued from…

Sep 22 — Space Adventures, NASA, ESA, JAXA, Online: Closing date submissions for 'YouTube Space Lab Competition;' through Dec 7.

Oct 17 — NASA, Key Largo FL: '15th NASA Extreme Environment Mission Operations,' 1st expedition to simulate a trip to an asteroid; through Oct 24.
---
TUESDAY

Oct 25 — Jet Propulsion Laboratory, Pasadena CA: 'The American Rocketeer,' event marks the 75th anniversary of the 1st rocket experiments at the site that became NASA JPL.

Oct 25 — Challenger Center for Space Science Education, Alexandria VA: 'Live Webcast: Earth to Astronaut,' Thomas Jones.

Oct 25-26 — The World Technology Network, New York City NY: 'The World Technology Summit & Awards 2011.'

Oct 25-28 — USGS Astrogeology Science Center, Lunar and Planetary Institute, Carlsbad NM: '1st International Planetary Cave Research Workshop: Implications for Astrobiology, Climate, Detection, and Exploration.'

Oct 25 — Moon: 6.4° SSW of Saturn, 16:00; SW of Spica, 18:00.

Oct 25 — Asteroid 3769 Arthurmiller: Near-Earth Flyby (1.137 AU).
---
WEDNESDAY

Oct 26 — The SETI Institute, Mountain View CA: Colloquium Series Lecture: 'Living With a Star – Dangerously,' Friedemann Freund.

Oct 26 — Committee on Science, Space and Technology, Washington DC: Full Committee Hearing on NASA's Commercial Crew Development Program at 10:00-12:00 EDT.

Oct 26 — Ames Research Center, Moffett Field CA: 'ARCTek 2012: Keeping Ames at the Cutting Edge of Technology.'

Oct 26-27 — FAA Center of Excellence for Commercial Space Transportation, Students for the Exploration and Development of Space Colorado Chapter, Boulder CO: 'Emerging Space Industry Leadership Workshop.'

Oct 26-27 — Endeavour Institute, NASA, et al, Lompoc CA: 'NPP Educator Launch Conference.'

Oct 26-28 — China Institute of Communications, Beijing, China: 'China Satellite Conference 2011: International Satellite Technology & Equipment Exhibition.'

Oct 26 — Moon: At Perigee (Distance 359691km), 03:00; New Moon,


Oct 26 — Asteroid (Near-Earth Flyby): 1993 VD (0.090 AU); 2006 SP19 (0.091 AU).
---
THURSDAY

Oct 27 — The British Interplanetary Society, London, United Kingdom: 'Lecture: The Space Shuttle – 30 Years of Flight, 30 Years of Lessons Learned,' Matthew Melis.

Oct 27 — The Manufacturing Advocacy & Growth Network in Cleveland, Ohio State University – Center for Automotive Research , NASA, Cleveland OH: 'Automotive Industry Workshop,' at Glenn Research Center featuring more than 30 exhibits demonstrating the latest NASA technologies that could benefit the automotive industry.

Oct 27-30 — Students for the Exploration and Development of Space USA, Boulder CO: 'SpaceVision2011.'

Oct 27 — Moon: 0.57° WSW of Mercury, 15:00; 2.0° SW of Venus, 17:00.

Oct 27 — Asteroid (Near-Earth Flyby): 2011 QY39 (0.082 AU); 2005 CJ (0.082 AU).
---
FRIDAY

NET Oct 28 — ULA, Launch Delta 2 / NPP, Vandenberg AFB CA: ULA Delta 2 rocket set to launch NPOESS Preparatory Project (NPP) mission for NOAA and NASA between 05:48 – 05:57 EDT.

Oct 28 — NASA, Suitland MD: Media invited to join NASA Deputy Administrator Lori Garver and NOAA Deputy Administrator Kathryn Sullivan to view the launch of the newest Earth-observing satellite, National Polar-orbiting Operational Environmental Satellite System Preparatory Project.

Oct 28 — Cassini OTM-297, Saturn Orbit: Spacecraft conducts Orbital Trim Maneuver #297 today.

Oct 28 — Moon: 4.2° N of Antares; 19:00.
---
SATURDAY

Oct 29 — Zero Gravity Corporation, Nashville TN: Commercial weightless flight on board G-Force One.

Oct 29 — Asteroid 2011 LC19: Near-Earth Flyby (0.058 AU).
---
SUNDAY

NET Oct 30 — RSA, Launch Soyuz / Progress 45P, Baikonur Cosmodrome, Kazakhstan: A Soyuz rocket set to launch the 45th Progress cargo delivery ship to the ISS.

Oct 30 — Asteroid 2023 Asaph: Closest Approach to Earth (1.319 AU).