Boeing, USA Space Enterprises Meet in Silicon Valley and Look to the Future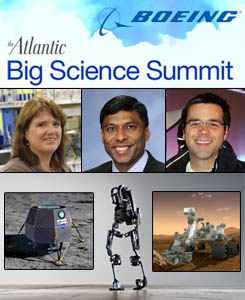 The Atlantic Big Science Summit: Science and Technology Experts on the Future of Innovation hosts a free meeting on October 30 in San Jose, CA, USA. Located at the Fairmont's Fourth Street Summit Center from 09:00–16:30 PDT and sponsored by The Boeing Company, the meeting will focus on the future of technology, flight, computing, robotics and energy use. It will also celebrate recent achievements, such as the NASA Curiosity Mars Rover landing on August 6, 2012, and how they inspire global and generational interest. Panels and interviews with 17 leading USA scientists and innovators from Microsoft, Hansen Robotics, NASA, Next Generation Technologies, will also include Caltech Astrophysicist Fiona Harrison (L), Moon Express co-founder Naveen Jain (C) and Virgin Galactic President for Special Projects Will Pomerantz (R). Not forgetting the human aspect of space technology, 'Iron Man Comes to Life' is presented by Russ Angold the Co-founder and Chief Technology Officer of Ekso Bionics at 11:15, and Wendy Ju a researcher from the Stanford Human Computer Interaction (HCI) Group is part of the 'From Android to Humanoid' panel at 14:30. (Image Credit: Boeing, The Atlantic, NASA, Caltech, SFF, EKSO, MoonEx, N. Jain)
IAA In Asia: Exploring New Horizons of Space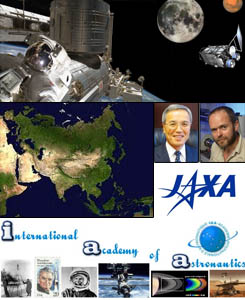 The International Academy of Astronautics is co-organizing the 1st Space Exploration Symposium on October 30-31 in Tokyo, Japan. With the Japan Aerospace Exploration Agency and the Japan Manned Space Systems Corporation, the IAA seeks to advance understanding of the significance, challenges and future of expanding Human activities in space beyond LEO to the Moon, asteroids and the rest of the Solar System. JAXA Vice President Kiyoshi Higuchi will be speaking on Tuesday. Clive Neal from University of Notre Dame is giving a Keynote on 'Using the Moon To Explore the Solar System' and there will be a special talk by SpaceX Vice President Barry Matsumori. The IAA is independently organizing its Academy Day in Beijing, China on November 3, which will include reports on the IAA Studies Center by Director Mr. Hu Zhongmin and an update from IAA Secretary General Dr. Jean-Michel Contant. Also on the horizon for the IAA in Asia are a Regional Meeting in Taipei, Taiwan, on December 4 and the CANEUSS-IAA Joint Workshop/Symposium on Small Satellites for Disaster Safety and Security set for India in January 2013. The monthly IAA journal Acta Astronautica ranked 8th among 45 aerospace journals in 2011 and the Academy has published 52 studies, many of them available online. (Image Credit: IAA, JAXA)
---


= All times for terrestrial events in local time unless noted.

= All times for international terrestrial events in local time unless noted.

= All times for space events, and…

= All times for international space / astro events in Hawaii Standard Time unless noted. Add 10 hours to obtain UT ('Universal Time;' Greenwich, England).
---
Weekly Planet Watch – Evening Planets: Mercury (SW), Mars (SW), Jupiter (ENE). Morning Planets: Venus (E).
---
MONDAY

Oct 29 — ISS, LEO: Expedition 33 works as crew of 6 until Nov 12 when Sunita Williams, Akihiko Hoshide, Yuri Malenchenko are scheduled for return to Earth in Soyuz TMA-05M spacecraft, marking start of Expedition 34; next 3 members join ISS March 2013.

Oct 29 — NuSTAR, LEO: NASA Nuclear Spectroscopic Telescope Array orbiting 600 km above Earth, using 2 sets of 133 thin nested mirrors to capture X-ray images of consumed matter being heated to 100M °C by black hole in center of Milky Way.


Oct 29 — Cassini, Saturn Orbit: Detecting / tracking record-setting disturbances of 83 kelvin above normal in Saturn upper atmosphere using Composite Infrared Spectrometer (CIRS) instrument; also using radar to image 70-km "hot-cross" on Titan indicating rising magma.


Oct 29 — Interorbital Systems Corporation, Mojave CA: Developing NEPTUNE series rockets for manned / unmanned missions and private island / sea-based launch, Hawai'i being considered; plan to conduct lunar sample return missions, sell regolith at US$10K per gram.

Oct 29 — Skybox Imaging, Inc., Mountain View CA: Developing low-cost imaging satellites and web-accessible platforms to deliver image / video of Earth within 2 days; SkySat-1 company's 1st microsatellite set to launch Q4 2012.

Oct 29 — Final Frontier Designs, LLC, Brooklyn NY: Researching space safety garments for radiation exposure beyond LEO, compression and pressure hazards; producing 3rd generation spacesuits for Zero2Infinty at approximately US$50K each.

Oct 29-30 — European Space Agency, National Centre for Space Studies, The Spanish National Research Council, Barcelona, Spain: 'On-Board Payload Data Compression Workshop;' hosted in 'The Residence for Researchers' hall in Spanish Council for Scientific Research building.

Oct 29-30 — CSA, Saint Hubert, Quebec, Canada: '2012 Workshop on Stratospheric Balloons;' suborbital platforms allowing for demonstration / validation of space technology at low cost.

Oct 29-31 — University of Georgia, SouthEast Laboratory Astrophysics Community, Atlanta GA: 'Workshop: Molecular Spectroscopy in the Era of Far-IR Astronomy;' discussion includes challenges of interpreting results from Herschel Space Observatory.

Oct 29 – Nov 3 — National Astronomical Observatories of China, The Chinese Academy of Sciences, National Natural Science Foundation of China, et al, Guiyang, China: 'Frontiers in Radio Astronomy and FAST Early Sciences Symposium 2012.'

Oct 29 — Moon: Full Moon (Full Hunter's Moon), 09:49.

Oct 29 — Asteroid 2012 UW9: Near-Earth Flyby (0.024 AU).

Oct 29 — Asteroid 2000 EA14: Near-Earth Flyby (0.100 AU).
---
Continued from…

Oct 3 – Jan 1, 2013 — Ontario Science Centre Exhibit, Toronto, Ontario, Canada: 'Beyond Planet Earth: The Future of Space Exploration;' future technologies on display including lunar elevator model, inflatable space living habitat and robotic submersible potentially useful in search for life on Europa.

Oct 17 – Nov 4 — OpenLuna Foundation Inc., Thornton CO: 'Launch the Launch;' volunteer organization seeks US$15K in pledges to enter NASA Nano-Satellite Launch Challenge.

Oct 22 – Nov 9 — NASA Lunar Science Institute, Online: 'Request for Input: Naming of the NEW NASA science and exploration institute.'

Oct 22 – Jan 18, 2013 — Lunar and Planetary Institute, Universities Space Research Association, Houston TX: Accepting undergraduate applications for '2013 LPI Summer Intern Program in Planetary Science.'
---
TUESDAY

Oct 30 — Boeing Company, San Jose CA: 'The Atlantic's Big Science Summit: Science and Technology Experts on the Future of Innovation;' free meeting at The Fairmont Fourth Street Summit Center, 09:00 PDT.

Oct 30 — California Science Center, Los Angeles CA: Newly built Samuel Oschin Air and Space Center displaying Space Shuttle Endeavour.

Oct 30-31 — JAXA, International Academy of Astronautics, The Japan Manned Space Systems Corporation, Tokyo, Japan: '1st Space Exploration Symposium in Tokyo;' Keidanren Kaikan Building, 13:00 JST.

Oct 30 – Nov 1 — JAXA, European Space Agency, MIT, Southwest Research Institute, et al, New York NY: 'Workshop: The Evolution and Constitution of Mercury's Interior;' Park Central Hotel, 07:00 EDT.

Oct 30 — Asteroid 2012 UR18: Near-Earth Flyby (0.029 AU).

Oct 30 — Asteroid 2012 UQ18: Near-Earth Flyby (0.098 AU).
WEDNESDAY

Oct 31 — Space Foundation, Colorado Springs CO: 'Deadline: Space Achievement Award;' recognizing people / organizations contributing breakthrough space technology / programs / products.

Oct 31 — RSA, Launch Soyuz / Progress 49P, Baikonur Cosmodrome, Kazakhstan: An RSA Soyuz rocket set to launch the 49th Progress cargo delivery ship to the ISS; 13:41 local time.

Oct 31 — Orbital Sciences Corporation, Wallops Island VA: Fueling systems and 30 second hot-fire test on first stage and dual AJ26 engines of Antares launch vehicle.

Oct 31 — Moon: 4.5° SSE of Pleiades, 10:00.
THURSDAY

Nov 1 — Deep Space: NASA Voyager 1 and 2 continuously sending data on energy-particles, magnetic field; V-1 about 122 AU and V-2 about 100 AU from Earth; 35 years in space, power estimated to last through 2020; approaching interstellar space.

Nov 1 — NASA, Online: 'NASA Nano-Satellite Launch Challenge' opens; US$2M prize for launch of 2 small satellites to Earth orbit within 1 week of each other; winner announced Dec 31, 2014 at 22:00 EST.

Nov 1 — Moon: At Apogee (Distance: 40,5641 km); 06:00; 4.2° N of Aldebaran, 07:00.
FRIDAY

Nov 2 — Kennedy Space Center Visitor Complex, Titusville FL: 'Celebrate Historic Final Journey of Space Shuttle Atlantis.'

Nov 2 — Lunar and Planetary Institute, Houston TX: 'Dawn at Vesta: A Mission and Science Overview;' presented by Tim Titus, United States Geological Survey; 03:30 CDT.

Nov 2 — Space Center Houston, Houston TX: 'Lunch with an Astronaut,' Leroy Chiao; adult US$49.95.

Nov 2 — Moon: 0.93° SSW of Jupiter, 15:00.
SATURDAY

Nov 3 — International Academy of Astronautics, Beijing, China: 'IAA Academy Day;' meet 13:00 CST at China Aerospace Science and Technology Corporation (CASC) for transportation to China Centre for Resources Satellite Data and Application (CREDSA) building.

Nov 3 — Asteroid 1009 SB15: Near-Earth Flyby (0.078 AU).
SUNDAY

Nov 4-7 — The Geological Society of America, Charlotte NC: '2012 GSA Annual Meeting and Exposition;' to include discussion of Mars Rover Curiosity, impact craters in Solar System, more.

Nov 4-8 — University of Illinois, Champaign IL: 'The 22nd Annual Astronomical Data Analysis Software and Systems (ADASS) Conference;' I-Hotel and Conference Center.

Nov 4-10 — Association of Space Explorers, Riyadh, Saudi Arabia: 'The 25th ASE Planetary Congress.'

Nov 4 — Standard Time (USA): Change clocks back 1 hour from Daylight Saving to Standard Time; does not include Hawai'i, American Samoa or Arizona (except the Navajo Reservation).

Nov 4 — Asteroid 2011 EL51: Near-Earth Flyby (0.082 AU).