World Space Week 2010 Celebrates Science & Technology Innovation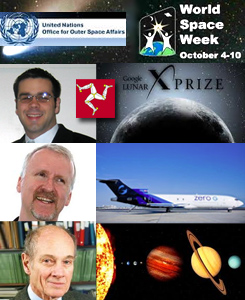 World Space Week (WSW) 2010, the largest public space event in history organized by the United Nations and World Space Week Association will commence on Oct 4-10. Now in its 11th year, WSW helps the global community celebrate the advancement of space research and exploration. Over 700 events in 55 nations will focus on this year's theme, 'Mysteries of the Cosmos.' On Oct 4-5, the X Prize Foundation and Space Isle will hold a 2-day summit on Isle of Man, United Kingdom for teams to discuss initiatives for the US$30 million GLX prize. Leaders and senior executives from the 22 teams will present the progress of their missions as well as discuss competition rules and judging procedures. X Prize Foundation Senior Director William Pomerantz (TL) states he is "happy we could hold this summit during World Space Week and in a location like the Isle of Man, which truly represents the new era of innovative space commerce." On Oct 9 Avatar Producer / Director James Cameron (CL) will be an honored guest on board Zero Gravity Corporation's G Force One to help raise funds for the X Prize Foundation. A multitude of educational events will be planned in India, China, Europe, Africa and the USA. During WSW, space engineers from EADS Astrium will deliver lectures in schools throughout Europe about the benefits of space activities. The Indian Space Research Organization has planned a week of competitions, debates, exhibitions and lectures for school students in Kerala, India. On Oct 6, Nobel Prize winner Jim Cronin (BL) will give a lecture at Wichita State University in Kansas, USA on 'New Results from the Pierre Auger Southern Observatory.' (Credit:)
First LUNAR Workshop to Advance Astrophysics from the Moon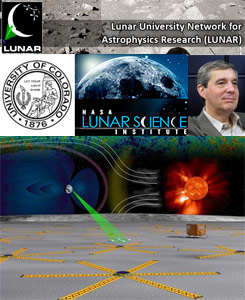 A consortium of research institutions led by the University of Colorado and funded by a NASA Lunar Science Institute Cooperative Agreement is hosting the workshop 'Robotic Science from the Moon: Gravitational Physics, Heliophysics and Cosmology' on October 5-6 in Boulder Colorado. Dubbed LUNAR (Lunar University Node for Astrophysics Research), the consortium includes partner institutions from 10 universities, 3 NASA Centers, the Smithsonian Astrophysical Observatory and the Naval Research Laboratory. This 1st LUNAR workshop will focus on concepts for astrophysical observatories and telescopes on the Moon, related instrumentation and theoretical studies to take advantage of the lunar environs. Community-based reviews have consistently identified cosmology, solar science and theoretical research on gravity as priorities that should be advanced by lunar-based observatories. A low frequency radio telescope on the far side of the Moon is seen as an ideal instrument to study particle physics near the Sun and the evolution of the early Universe. This concept will be explored in a session, chaired by Jack Burns entitled '21cm theory.' Lunar laser ranging and its potential to test Einstein's theory of relativity will be discussed by Doug Currie of the University of Maryland in his presentation on 'Lunar Laser Ranging Retroreflector Arrays of the 21st Century.' (Credit:)
---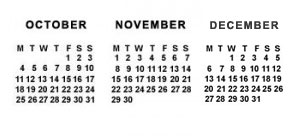 = All times for terrestrial events in local time unless noted.

= All times for international terrestrial events in local time unless noted.

= All times for space events, and…

= All times for international space / astro events in Hawaii Standard Time unless noted. Add 10 hours to obtain UT ('Universal Time;' Greenwich, England).
---
Weekly Planet Watch – Morning Planets: Mercury (E) / Evening Planets: Venus (SW), Mars (W), Jupiter (ESE).

---
MONDAY

Oct 4 — International Space Station, LEO: E-25 crew members prepare for arrival of flight engineers Scott Kelly, Oleg Skripochka and Alexander Kaleri on Oct 9.

Oct 4 — NASA Lunar Reconnaissance Orbiter (LRO), Lunar Orbit: All systems nominal in scientific phase of mission as LRO continues to return data from the Moon.

Oct 4 — Mars Reconnaissance Orbiter (MRO), Red Planet: Mars Climate Sounder instrument aboard MRO continues 2nd week of 4-week campaign to characterize daily atmospheric changes in preparation for arrival of  Mars Science Laboratory rover, Curiosity.

Oct 4 — 53rd Sputnik Observation, Worldwide: World's 1st artificial satellite launched into space by the Soviet Union in 1957; orbited Earth in about 98 minutes.

Oct 4 — SPACE, Russian Center for Science and Culture, New Delhi, India: 'Sputnik Launch Celebration,' movie and presentation to commemorate 1st day of World Space Week.

Oct 4 — SpaceWeek.org, Berlin, Germany: 'Mission Nepa: High Altitude Balloon Launch.'

Oct 4-5 — X Prize Foundation, Space Isle, Douglas, Isle of Man, United Kingdom: '4th GLX Team Summit,' 2-day summit to discuss upcoming competition details for $30 million GLX prize.

Oct 4-6 — International Center for Integrated Mountain Development , Kathmandu, Nepal: 'Benefiting from Earth Observation: Bridging the Data Gap for Adaptation to Climate Change in the Hindu Kush Himalayan Region.'

Oct 4-6 — Korea Astronomy and Space Science Institute, Seoul National University, Seoul, South Korea: 'GMT2010: Opening New Frontiers with the Giant Magellan Telescope.'

Oct 4-7 — Astronomy Amateur Association of Lanzhou University, Lan Zhou, Gan Su, China: 'World Space Week' commemoration with astronomical observations, photo exhibitions, lectures for students.

Oct 4-8 — ESA, Rhodes Island, Greece: '2010 International Conference on Space Optics.'

Oct 4-8 — International Society for Photogrammetry & Remote Sensing, Bicentennial Commission of Chile, et al, Santiago, Chile: 'Latin American Remote Sensing Week.'

Oct 4-8 — Hokkaido University, Sapporo, Japan: '5th Alfven Conference on Plasma Interaction with Non-magnetized Planets / Moons and its Influence on Planetary Evolution.'

Oct 4-9 — Laboratory for Advanced Technology Applications, University of Constantine, Algeria, Africa: '2nd Africa Space Fest.'

Oct 4-9 — International Astronomical Union, Sternberg Astronomical Institute, Kislovodsk, Russia: 'Comprehensive Characterization of Astronomical Sites.'

Oct 4-10 — United Nations Committee on the Peaceful Uses of Outer Space, Global: 'World Space Week 2010,' the largest public space event on Earth celebrated in over 55 nations.

Oct 4-10 — ESA Advance Concepts Team, Online / Global: 'World Space Week: The Space Game,' online game for people of all ages and backgrounds to design trajectories for an interplanetary mission.

Oct 4-10 — Pan-American School, San Antonio de Belen, Costa Rica: 'Space Exploration Scrapbooks / Rocket Lab,' students to prepare digital scrapbooks on space exploration (1957 – 2010) and create rockets to be launched during the week.

Oct 4-10 — EADS Astrium, Bordeaux; Les Mureaux; Toulouse, France / Bremen; Friedrichshafen; Lampoldshausen; Ottobrunn, Germany / Winchester; Stevenage; United Kingdom: 'Astrium World Space Week,' Astrium space engineers to deliver lectures in schools about space activities and its benefits.

Oct 4-10 — Vikram Sarabhai Space Center, Indian Space Research Organization, Thiruvananthapuram, Kerala, India: Kerala Schools to celebrate World Space Week through competitions, debates, exhibitions & lectures; Sounding Rocket launches planned Oct 6-8 at Thumba Equatorial Rocket Launching Station.

Oct 4-10 — Cadi Ayyad University of Marrakech, Amateur Astronomy Association of Marrakech, et al, Marrakech, Morocco: '11th Astronomy Festival of Marrakech: Space for All,' event to raise astronomy awareness featuring astrophysicist Sylvie Vauclair.

Oct 4-10 — Pakistan Space & Upper Atmosphere Research Commission, Lahore; Karachi, Pakistan: 'World Space Week 2010,' multitude of educational events for students and teachers to raise space exploration awareness.

Oct 4 — Moon: 4.5° SSW of Regulus; 11:00.


Oct 4 — Asteroid 2010 RD: Near-Earth Flyby (0.051 AU).

Oct 4 — Asteroid 3783 Morris: Closest Approach to Earth (1.017 AU).
---
Continued from . . .

Oct 2 — Betchart Expeditions, Hawaii HI: 'Discover Hawaii Expedition,' tour of Galaxy Garden by Jon Lomberg, Onizuka Space Center, Imiloa Astronomy Center, Keck Observatory and stargazing on the summit of Mauna Kea; through Oct 9.

Oct 3 — American Astronomical Society Division for Planetary Sciences, Pasadena CA: '42nd Annual Meeting of the AAS DPS;' through Oct 8.
---
TUESDAY

Oct 5— The Thornburg Center for Space Exploration, Pernambuco, Brazil: 'Mission to Mars: The Search for Life.'

Oct 5— Balseiro Institute, Bariloche, Argentina: 'Stars in the Sky.' 

Oct 5-6 — Lunar University Network for Astrophysics Research, Boulder CO: 'Robotic Science from the Moon: Gravitational Physics, Heliophysics and Cosmology.'

Oct 5,7 — Highlands Planetarium, Brackenridge PA: 'MESSENGER Mission to Mercury,' Carol Fraser.

Oct 5-7 — The Asia-Pacific Satellite Communication Council, Tokyo, Japan: '13th APSCC 2010 Satellite Conference and Exhibition: Beyond Survival, it is Responsibility.'

Oct 5-8 — ESA, Noordwijk, The Netherlands: '32nd ESA Antenna Workshop on Antennas for Space Applications.'

Oct 5 — Asteroid 2010 RC130: Near-Earth Flyby (0.032 AU).
---
WEDNESDAY

Oct 6— Powerhouse Museum, New South Wales, Sydney, Australia: 'Space Week: Technical Challenges of Running a Moon Base,' Morris Jones.

Oct 6— Australian Geographic Magazine, Sydney, Australia: 'AGS Awards Ceremony,' honorary guest Buzz Aldrin in attendance for 1st time screening of new Apollo 11 footage.

Oct 6— Wellington Astronomical Society (WAS), Wellington, New Zealand: 'WAS Meeting: Remote Sensing,' Krista Steenberger.

Oct 6 — The SETI Institute, Mountain View CA: Colloquium Series Lecture: 'The Mars Dichotomy: Brought To You by a Mega Impact,' Margarita Marinova.

Oct 6 — Wichita State University Physics Department, Wichita KS: Watkins Visiting Professorship Lecture Series: 'New Results from the Pierre Auger Southern Observatory,' Nobel Prize Winner Jim Cronin.

Oct 6 — Reuben Fleet Science Center, San Diego CA: 'The Sky Tonight Planetarium Show: Autumn Constellations.'

Oct 6-8 — International Academy of Astronautics, London, United Kingdom: '2nd IAA Symposium on Searching for Life Signatures,' Milton Keynes.

Oct 6-8 — Lithuanian Space Association, Vilnius University, et al, Vilnius, Lithuania: '1st International Space Conference: Space Economy in the Multipolar World.'

Oct 6 — Moon: At Perigee (Distance: 56.36 Earth-Radii), 04:00; 4.5° SSW of Mercury, 19:00; 7.2° SSW of Saturn; 23:00.
---
THURSDAY

NET Oct 7— RSA, Launch Soyuz / ISS 24S, Baikonur Cosmodrome, Kazakhstan: A Russian government Soyuz rocket will launch the Soyuz spacecraft to the International Space Station with members of the next Expedition crew.

Oct 7 — Federal Aviation Administration, Washington DC: 2010 Meeting of The Commercial Space Transportation Advisory Committee (COMSTAC).

Oct 7-9 — COMEXCEBA, Toluca, Mexico: '2010 1st International Aerospace Congress of Mexico / 1st Moon Landing Commemoration of Apollo 11' on Oct 9.

Oct 7 — Asteroid 2010 RA91: Near-Earth Flyby (0.061 AU).

Oct 7 — Moon: New Moon, 08:44; 2.8° SSW of Spica, 23:00.
---
FRIDAY

Oct 8— Rotary Club of North Melbourne, Melbourne, Sydney, Australia: 'Astronomy Breakfast,' local astronomer (tba) to give talk in observance of World Space Week.

Oct 8— AstroAmics, Barcelona, Spain: 'FOSCA 2010,' annual astronomy event to celebrate World Space Week.

Oct 8-10 — Imiloa Astronomy Center, Hilo HI: '3rd Annual Hilo Wayfinding and Navigation Festival.'

Oct 8 — Mercury: .53° SSW of Saturn; 19:00.

Oct 8 — Asteroid 2001 TB: Near-Earth Flyby (0.005 AU).
---
SATURDAY

Oct 9 — Zero Gravity Corporation, X Prize Foundation, Los Angeles CA: Commercial weightless flight onboard G Force One, Avatar Producer / Director James Cameron to be honored guest aboard flight to help raise funds for the X Prize Foundation.

Oct 9 — NASA, Castle Challenger Learning Center Foundation, Atwater CA: 'NASA Open House: Space Week Celebration,' featuring hands-on science and technology exhibits.

Oct 9 — Southern Colorado Rocketeers, Pueblo CO: 'Model Rocket Building,' participants to fly rockets at SCORE launch site Oct 16.

Oct 9 — Sirius Astronomy, Constantine, Algeria: 'National Fair in Popular Astronomy: The Realm of the Milky Way.' 

Oct 9 — Blackrock Castle Observatory, Cork, Ireland: 'Astrophotography Workshop,' Denis Walsh.

Oct 9-10 — Imiloa Astronomy Center Teacher Program, Hilo HI: 'NASA's Eyes on Hawai'i,' participants to be given overview of NASA science and hands on activities to give students understanding of the natural & man-made processes that affect the Hawaiian islands.

Oct 9 — Mercury: .53° SSW of Saturn; 19:00.

Oct 9 — Moon: 3.4° SSW of Mars; 24:00.

Oct 9 — Draconids Meteor Shower Peak: Best viewed in the northern hemisphere, the Draconids meteor shower radiates from constellation Draco.

---
SUNDAY

Oct 10 — Finnish Meteorological Institute, Varkaus, Finland: 'Public Lecture on Meteorology,' Jarrko Hirvonen.

Oct 10 — Astronomy of Achernar-Difusion, Mar del Plata, Argentina: 'World Space Week Contest Deadline,' for children ages 5-15 to design artwork based on Saturn, its moons and rings.

Oct 10 — San Diego Space Society, San Diego CA: 'SDSS Meeting,' Philip Harris to discuss latest books, Space Enterprise and Lunar Pioneers.

Oct 10-24 — Lockheed Martin, Washington DC: '1st USA Science & Engineering Festival,' featuring over 500 science & engineering organizations from across the nation for hands-on science activities to inspire the next generation of scientists and engineers.

Oct 10 — Asteroid 2062 Aten: Closest Approach to Earth (0.586 AU).