Orbital's Cygnus Tailing the Dragon: New Dimension of Spaceflight on Horizon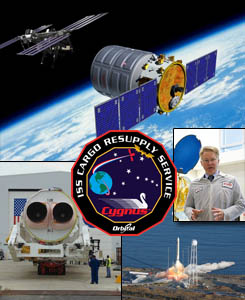 Orbital Sciences Corporation (Orbital) has three major milestones ahead as they work towards the 2013 start of a US$1.9M contract for 8 operational cargo delivery missions with the Cygnus spacecraft carrying a total of 20,000 kg to the International Space Station. First, around the end of October an on-pad hot-fire test of the Antares launch vehicle first stage will be performed. About a month later, the fully operational Antares rocket will perform a maiden flight carrying a heavily instrumented mass simulator payload and deploying 4 pico-Satellites. Next a Cygnus demonstration flight will rendezvous and dock with the ISS delivering 550kg of cargo. The company operates from the Mid-Atlantic Regional Spaceport, described by CEO David W. Thompson as "the first all-new large-scale liquid-fuel launch site to be built in the U.S. in decades." Independent, private / commercial, NewSpace ventures like Orbital Sciences Corporation and Space Exploration Technologies aim to revolutionize and greatly expand access to space. With NewSpace as of yet limited to cargo, China Shenzhou is currently the most modern human spacecraft flying. William Gerstenmaier, Associate Administrator for Human Exploration and Operations at NASA indicated recently that from 2014 the agency will need US$830M per year in funding to fly humans in a commercial vehicle by the end of 2017. (Image Credit: OSC)
UN / Japan 4th Nano-Satellite Symposium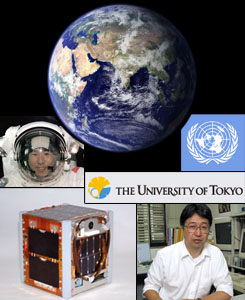 The UN Office for Outer Space Affairs and The University of Tokyo hold their 4th symposium for micro/ nano-satellite technologies discussing the advancements, education and innovations on October 10-13. Nano-satellite production allows for low cost, quick development and minimization of human workload. Future missions dedicated to Earth and environmental monitoring with international efforts can lead to Earthquake prediction, information gathering and additional groundbreaking and demanding missions. In cooperation with University Space Engineering Consortium and support from nine Japanese agencies, the four day conference will detail space debris mitigation, high speed communication systems, miniaturized optical systems, simplification of interfaces, standardization and reliability expectations. Astronaut Takao Doi, UN Expert for Space Application, and Professor Shinichi Nakasuka, leader of the Hodoyoshi Project, will be featured speakers at the conference. Coordinating with the Japan Aerospace Exhibition 2012, an aerospace trade show on Oct 9-14, the Nano-Satellite Symposium will also host an exhibition booth, US$20 for one day admission. (Image Credit: ISSL, UNOOSA, JAXA, NASA, Todai)
---


= All times for terrestrial events in local time unless noted.

= All times for international terrestrial events in local time unless noted.

= All times for space events, and…

= All times for international space / astro events in Hawaii Standard Time unless noted. Add 10 hours to obtain UT ('Universal Time;' Greenwich, England).
---
Weekly Planet Watch – Evening Planets: Mars (SW), Jupiter (ENE). Morning Planets: Venus (E).
---
MONDAY

Oct 8 — ISS, LEO: Expedition 33 crew members Sunita Williams and Akihito Hoshide testing robotic arm in preparation for Dragon C3 Spacecraft set to arrive Oct 10 via the SpaceX Falcon9 rocket.

Oct 8 — GRAIL, Lunar Orbit: Twin spacecraft gathering and transmitting data for extended operations of gravity field mapping at the lowest possible altitudes through Dec 3.

Oct 8 — Dawn, Main Asteroid Belt: Collecting and reporting data about 530-km diameter Vesta from more than 295,605km away while traveling en route to 952-km diameter Ceres; scheduled approach Feb 2015.

Oct 8 — Earth2Orbit, Mumbai, India: To sell space aboard Polar Satellite Launch Vehicle, adapt Reusable Launch Vehicle to Commercial Space Plane; partnered with 5 companies, 3 international offices.

Oct 8 — Red Bull Stratos, Roswell NM: Super-sonic skydive attempt from 'the edge of space' 36,500 meters could aid development of improved space suits and safety protocol concepts for NewSpace applications.

Oct 8 — Thin Red Line Aerospace, Chilliwack, British Columbia, Canada: Working with Paragon SDC to perform studies on vessel technologies, manufacturing / designing cutting-edge fabric and deployable technologies used by Bigelow Aerospace, as well as 15 other projects.

Oct 8-12 — Space Research Institute, Moscow, Russia: '3rd Moscow Solar System Symposium.'

Oct 8-12 — United Nation Office of Outer Space Affairs, International Space Weather Initiative, QUIT Astronomical Observatory, NASA, JAXA, et al, Quito, Ecuador: 'United Nations/Ecuador Workshop on the International Space Weather Initiative in Ecuador.'

Oct 8 — Moon: 11° SSW of Pollux, 08:00.
---
Continued from…

Oct 3 – Jan 1, 2013 — Ontario Science Centre Exhibit, Toronto, Ontario, Canada: 'Beyond Planet Earth: The Future of Space Exploration.' Future technologies on display including lunar elevator model, inflatable space living habitat and robotic submersible potentially useful in search for life on Europa.

Oct 4-10 — World Space Week Association, Worldwide: 'World Space Week 2012.'

Oct 7-8 — University of Arizona – Department of Physics / Department of Astronomy, Tucson AZ: 'Exploring the Dark Universe: Frontier of Cosmology and Astrophysics in the 21st Century'
---
TUESDAY

Oct 9 — Cassini OTM-333, Saturn Orbit: Spacecraft conducts Cassini Orbital Trim Maneuver #333 today.

Oct 9-12 — European Space Agency, National Center for Space Studies, ThalesAlenia Space, Ajaccio, Corisca, France: 'International Conference on Space Optics.'

Oct 9-12 — German Aerospace Center, Center for Applied Space Technology and Microgravity, Max Planck Institute for Radio Astronomy, Cologne, Germany: 'International Workshop: From Quantum to Cosmos5 – Space-based Research in Fundamental Physics and Astronomy.'

Oct 9 — Asteroid 2012 QE50: Near-Earth Flyby (0.082 AU).
WEDNESDAY

Oct 10-12 — Goddard Space Flight Center, Greenbelt MD: 'International Workshop on Instrumentation for Planetary Missions.'

Oct 10-13 — UN Office for Outer Space Affairs/University of Tokyo, Nagoya City, Japan: '4th Nano-Satellite Symposium.'

Oct 10 — Moon: 6.2° SSW of Beehive Cluster, 11:00.
THURSDAY

Oct 11, 12 — Jet Propulsion Laboratory, Pasadena CA: 'The von Karman Lecture Series: Herschel Opens Up the Cool Universe.' Two separate events in two locations in Pasadena, California.

Oct 11-14 — Society for the Advancement of Hispanics, Chicanos and Native Americans in Science, Seattle WA: 'Science, Technology, and Diversity for a Healthy World.'

Oct 11-14 — The Scientific Workgroup for Rocketry and Space Flight, Munich, Germany: 'The European Space Elevator Challenge 2012.'

Oct 11 — Moon: 5.7° SSW of Regulus, 06:00.
FRIDAY

Oct 12 — Arianespace, Launch Soyuz / Galileo IOV, Kourou, French Guiana: An Arianespace Soyuz rocket will launch its 3rd mission from the Guiana Space Center in South America and carry 2 Galileo in-orbit validation satellites for Europe Galileo navigation constellation.

Oct 12 — Space Center Houston, Houston TX: 'Lunch With an Astronaut,' Tom Jones.

Oct 12 — Lunar and Planetary Institute, Houston TX: 'The Dual Nature of the Martian Crust: Young Lavas and Old Clastic Materials.'

Oct 12-14 — German Mars Society, University of the Armed Forces in Germany, Munich, Germany: 'European Mars Conference (EMC12).'

Oct 12 — Moon: 5.9° SSW of Venus, 02:00.
SATURDAY

Oct 13 — British Interplanetary Society, Victoria, United Kingdom: 'Lecture: The Hybrid Rocket for the Bloodhound 1000 mph Car.'

Oct 13-14 — Jet Propulsion Laboratory, Reno NV: 'NASA Exoplanet Program Analysis Group (ExoPAG) Meeting.'

Oct 13-14 — National Academy of Science, Bishop CA: 'Committee Meeting on Radio Frequencies.'
SUNDAY

Oct 14-18 — Taipei City Government, China Airlines, HP, Taipei, Taiwan: 'Conference: Horizons of Quantum Physics – from Foundations to Quantum-Enabled Technologies.'

Oct 14-19 — American Astronomical Society Division for Planetary Sciences, Reno NV: '44th Annual Meeting of the DPS.'