Australia Events Boost Space Science Efforts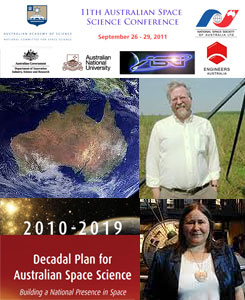 With 2 major space science events this week, Australia scientists, engineers, educators and government officials will have ample opportunity to showcase their research and refine the country's plan for the future. The 11th Australian Space Science Conference (ASSC) will be held at the Australian National University in Canberra on September 26-29. Jointly sponsored and organized by the National Committee for Space Science (NCSS) and the National Space Society of Australia, ASSC is intended to be the primary space science event in the country where delegates present their research to a peer reviewed forum. Invited speakers for this year's event include Harvey Butcher of the Mt Stromlo New Space Technology Center, and space science educator Kerrie Dougherty of Powerhouse Museum. This year's ASSC will run in conjunction with the NCSS workshop on implementing Australia's 1st Decadal Plan for Space Science, which was published in late 2010. The Decadal Plan is intended to build a true Australian presence in space by investing almost $AUD140 M from new government funding sources into large projects that combine research infrastructure with exciting, broad-based science. At the 1-day event, the scientific community and associated stakeholders in Government and industry will discuss the plan, the Government responses, and proceed with implementation of the Plan's recommendations. (Credit: NCSS, NSS-Australia)
SpaceX Leader, Innovator Elon Musk to Outline Future of Space Travel at NPC Event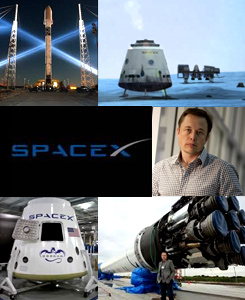 Space Exploration Technologies (SpaceX) CEO Elon Musk will be the featured speaker at a National Press Club Luncheon on September 29 in Washington DC. The PayPal co-founder turned space entrepreneur will be on hand to discuss the future of human spaceflight followed by a question and answer session. SpaceX, a Hawthorne CA based company of 1500 employees developed the Falcon 1 and Falcon 9 reusable launch vehicles as well as the Dragon spacecraft. It is also currently developing the 1,400,000kg Falcon Heavy super-heavy lift launch vehicle, which can carry 2 times the payload of a space shuttle. SpaceX recently won a NASA Commercial Orbital Transportation Services (COTS) contract to fly resupply missions to the International Space Station (ISS) and beyond. NET Nov 30, the Falcon 9 rocket is set to launch its 2nd Dragon spacecraft on the COTS-2 mission to demonstrate rendezvous and berthing with the ISS as well as deliver 2 small Orbcomm communications satellites. SpaceX plans to fly its 1st human mission by 2014. (Credit: SpaceX)
---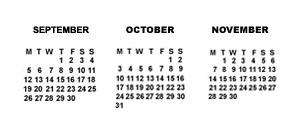 = All times for terrestrial events in local time unless noted.

= All times for international terrestrial events in local time unless noted.

= All times for space events, and…

= All times for international space / astro events in Hawaii Standard Time unless noted. Add 10 hours to obtain UT ('Universal Time;' Greenwich, England).
---
Weekly Planet Watch – Morning Planets: Mercury (E), Mars (E), Jupiter (S) / Evening Planets: Venus (W), Jupiter (ENE), Saturn (W).
---
MONDAY

Sep 26 — International Space Station, LEO: E-29 crew members Cmdr Mike Fossum, Satoshi Furukawa and Sergei Volkov continue with ongoing science activities and ISS maintenance; remainder of crew expected to launch from Kazakhstan NET Nov 13.

Sep 26 — NASA Lunar Reconnaissance Orbiter (LRO), Lunar Orbit: All systems nominal in scientific phase of mission as LRO continues to make digital elevation and terrain maps that will be a fundamental reference for future human exploration.

Sep 26 — Mars Rover Opportunity, Red Planet: Opportunity continues to study 'Chester Lake' rock outcrop on the rim of Endeavour Crater; Total odometry is over 33km.

Sep 26 — Northrop Grumman Foundation, Los Angeles CA: '2011 Weightless Flights of Discovery Program.'

Sep 26-29 — Australian Academy of Science, National Space Society of Australia, Canberra, Australia: '11th Australian Space Science Conference.'

Sep 26-29 — National Council For Science and Technology, United Nations Office for Outer Space Affairs, et al, Mombasa, Kenya: '4th African Leadership Conference for Sustainable Development,' featuring a visit to San Marco Satellite and Launching Station Malindi.

Sep 26-29 — Tohoku University, Sendai, Japan: '21st Workshop on General Relativity and Gravitation in Japan.'

Sep 26-29 — Bulgarian Academy of Sciences, Rozhen National Astronomical Observatory Bulgaria, et al, Smolyan, Bulgaria: 'Rozhen National Astronomical Observatory Conference: 30 Years Eyes on the Sky.'

Sep 26-30 — The Observatory of Paris, National Center of Space Studies, et al, Paris, France: '1st European Conference on Laboratory Astrophysics.'

Sep 26-30 — Commonwealth Scientific and Industrial Research Organization – Astronomy & Space Science, Parkes, Australia: 'CSIRO Astronomy and Space Science 2011 Radio Astronomy School.'

Sep 26 — Moon: 6.3° SSW of Mercury; 23:00.
---
Continued from . . .

Sep 20 — NASA, Virginia Beach; Charlottesville; Stuart; VA : 'NASA Driven to Explore / Touch the Moon in Virginia,' Public to have rare chance to touch a nearly 4-billion-year-old piece of Moon rock and learn about the solar system; through Sep 28.

Sep 24 — International Academy of Astronautics, Baia Chia, Sardinia, Italy: '4th IAA Symposium on Searching for Life Signatures;' through Sep 29.


Sep 25 — National Science Foundation, Astronomical Society of the Pacific, et al, Acadia National Park ME: 'Astronomy from the Ground Up: Sky Rangers Outdoor Astronomy Interpretation Workshop;' through Sep 29.

Sep 25 — Center for Lunar Science and Exploration, Winslow AZ: 'Meteor Crater Field Camp,' a week long field class and research project based at Barringer Meteorite Crater; through Oct 1.

Sep 25 — Observatory of Paris, ONERA, et al, Victoria, Canada: '2nd International Conference on Adaptive Optics for the Extremely Large Telescopes;' through Oct 1.

Sep 25 — NASA, Santa Rosa CA: 'Green Flight Challenge,' as part of the NASA Centennial Challenges competition; through Oct 3.
---
TUESDAY

NET Sep 27 — USAF, Launch Minotaur 4 / TacSat 4, Kodiak Launch Complex AK: The Air Force Minotaur 4 rocket set to launch the experimental TacSat 4 demonstration satellite for the military Operationally Responsive Space office.

Sep 27 — Stennis Space Center, Stennis Space Center MS: 'NASA Stennis Business Consortium.'

Sep 27 — US Space Walk of Fame Foundation, Titusville FL: 'Ask the Astronauts,' live interactive session with astronaut Edward Gibson.

Sep 27-28 — Canadian Space Agency, St. Hubert, Quebec, Canada: 'CSA Workshop on the Utilization of Field Programmable Gate Arrays in Canadian Space Missions.'

Sep 27-29 — American Institute of Aeronautics and Astronautics, Long Beach CA: 'AIAA Space 2011 Conference & Exposition / AIAA Education Alley 2011.'

Sep 27-29 — Asia-Pacific Satellite Communications Council, Bali, Indonesia: 'Asia-Pacific Satellite Communications, Broadcasting and Space Conference and Exhibition 2011.'

Sep 27 — Moon: New Moon, 01:08; At Perigee (Distance: 357555km);  5.5° SSW of Venus, 20:00; 6.6° SSW of Saturn, 23:00.

Sep 27 — Sextanid Meteors: Appearing to radiate from the Constellation Sextans, this meteor shower occurs during the daytime with minimal activity.
---
WEDNESDAY

Sep 28 — The SETI Institute, Mountain View CA: Colloquium Series Lecture: 'Cassini / Huygens Results for the Titan Haze,' Robert West.

Sep 28 — Lunar and Planetary Institute, Houston TX: LPI Seminar Series: 'Astrobiological Benefits of Human Space Exploration,' Ian Crawford.

Sep 28-30 — Astrium, Constance, Germany: '14th European Space Mechanisms and Tribology Symposium 2011.'

Sep 28 — Cassini OTM-292, Saturn Orbit: Spacecraft conducts Orbital Trim Maneuver #292 today.

Sep 28 — Moon: 2.3° S of Spica; 11:00.

Sep 28 — Asteroid 2009 SH2: Near-Earth Flyby (0.077 AU).
---
THURSDAY

NET Sep 29 — ILS, Launch Proton / QuetzSat1, Baikonur Cosmodrome, Kazakhstan: An ILS Proton rocket with a Breeze M upper stage set to deploy Quetzsat 1 satellite to provide direct television broadcasting services to Mexico.

Sep 29 — The National Press Club, Washington DC: 'National Press Club Luncheon,' featuring SpaceX CEO Elon Musk.

Sep 29 — ESA, EU Council, Warsaw, Poland: 'Seminar: Space Situational Awareness.'

Sep 29 – Oct 1 — Space Generation Advisory Council, Cape Town, South Africa: '10th Annual Space Generation Congress.'

Sep 29 — Venus: 1.3° SSW of Saturn; 13:00.
---
FRIDAY

Sep 30 – Oct 2 — Defense Advanced Research Projects Agency, Orlando FL: '100 Year Starship Study Symposium.'
---
SATURDAY

Oct 1 — Lunar Return / 2-Year Countdown: China set to land Chang'e-3 spacecraft on Moon NET 2013, marking 1st robotic lunar landing in 37 years.

Oct 1 — Deep Space, Exoplanets: An international team of scientists continue 200-hour observing program with NASA Hubble Space Telescope to explore 'Hot Jupiters', exoplanets similar in size to Jupiter but with temperatures of 1,000° Kelvin or more.

NET Oct 1 — RSA, Launch Soyuz / Glonass M, Plesetsk Cosmodrome, Russia: A Russian government Soyuz rocket set to launch a Glonass K navigation satellite.

Oct 1 — The Astronomical League, Worldwide: 'International Astronomy Day 2011.'

Oct 1 — Moon: 4.0° NNE of Antares; 12:00.

Oct 1 — Mars: 4.0° SSW of the Center of Beehive Cluster; 02:00.

Oct 1 — Asteroid (Near-Earth Flyby): 2009 DO111 (0.079 AU); 2009 HV2 (0.084 AU).
---
SUNDAY

Oct 2-7 — American Astronomical Society Division for Planetary Sciences, Copernicus Meetings, et al, Nantes, France: '43rd Annual Meeting of the DPS.'