Prague, Czech Republic Hosts 61st International Astronautical Congress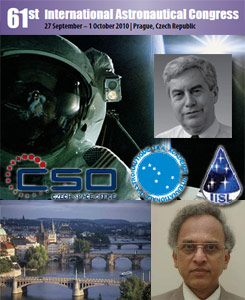 IAC 2010, the premier annual event in the field of astronautics, will take place at the Prague Congress Center on September 27- October 1. With the theme, "Space for Human benefit and exploration," the Congress will provide an opportunity for representatives from government, industry and science sectors, together with members of the general public to help shape the future direction of space exploration. Representatives from each of the 53 IAF member countries will explore how collaboration with other nations can help develop a truly global space exploration strategy. The technical program features 1600 papers, selected from the 2200 abstracts received. There will also be 8 plenary sessions, 4 highlight lectures, a Parliamentarian meeting and the UN-IAF workshop on GNSS. The Czech Republic, which recently became the 18th member of ESA, will be presenting its space accomplishments and vision in a plenary session moderated by Jiři Grygar (CR) of the Czech Academy of Sciences.  Another plenary session will feature the heads of the space agencies of USA, Europe, Japan, Canada, China, India and Russia. The highlight lectures include an overview of space activities in South Africa and a review of the still controversial India Chandrayaan-1 discovery of water on the Moon presented by JN Goswami (BR) of ISRO-DOS. (Credit: CSO, IISL, ISRO, IAF)
Mars Exploration Focus of 2 Events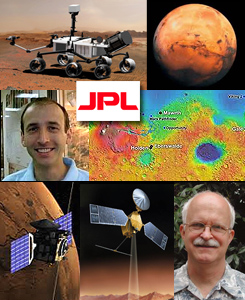 Advancing Mars exploration will be the focus of 2 events held in Monrovia CA. On September 27-29, top scientists and researchers will participate in the 4th Mars Science Laboratory (MSL) Landing Site Community Workshop to evaluate the best landing site for the NASA MSL aka 'Curiosity' Lander / Rover mission slated for NET 2011. Organized by the Mars Landing Site Steering Committee, the event will feature presentations related to the 4 landing sites under consideration: Gale crater (4.49S, 137.42E), Holden crater (26.37S, 325.10E), Eberswakde crater (23.86S, 326.73E) and Mawrth Vallis (24.01N, 341.03E). Presentations will emphasize pros and cons of each site and evaluate characteristics that could enhance MSL exploration objectives. In 2005, nearly 60 candidate sites were under consideration. However, valuable data from ESA Mars Express and Mars Reconnaissance Orbiter (MRO) revealed the 4 remaining sites to contain the highest levels of phyllosilicates- minerals that have formed in the presence of water. The final recommendation for a landing site will be decided next May or June. Also taking place in Monrovia will be the 23rd Meeting of the Mars Exploration Program Analysis Group (MEPAG) Sep 30-Oct 1. MEPAG Chair David Des Marais (BR) will open the meeting followed by brief presentations given on MRO, Mars Rovers Spirit & Opportunity, ESA's Mars programs, a decadal survey update and MSL landing site updates. Pictured: MLSSC Co-Chair John Grant (CL). (Credit: NASA, ESA)
---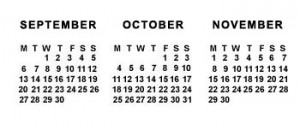 = All times for terrestrial events in local time unless noted.

= All times for international terrestrial events in local time unless noted.

= All times for space events, and…

= All times for international space / astro events in Hawaii Standard Time unless noted. Add 10 hours to obtain UT ('Universal Time;' Greenwich, England).
---
Weekly Planet Watch – Morning Planets: Mercury (E) / Evening Planets: Venus (SW), Mars (W), Jupiter (ESE).

---
MONDAY

Sep 27 — International Space Station, LEO: Remaining E-24 crew members continue with scientific experiments and maintenance activities after the departure of Cmdr Alexander Skvortsov and Flight Engineers Tracy Caldwell Dyson and Mikhail Kornienko; Departure signals end of E-24 crew and start of E-25 crew under command of Dough Wheelock.

Sep 27 — NASA Lunar Reconnaissance Orbiter (LRO), Lunar Orbit: All systems nominal in scientific phase as LRO continues to return data of the Moon.

Sep 27 — Mars, Red Planet: Scientists continue to investigate why presence of methane on Mars lasts less than a year, suggesting source of the gas could be geological activity or biological.

Sep 27 — Stanford University Center for Space Science and Astrophysics, Stanford CA: 'EIT Waves: A New Window for Coronal Seismology,' P.F Chen.

Sep 27-29 — NASA, Monrovia CA: '4th Mars Science Laboratory Landing Site Community Workshop.'

Sep 27-29 — NASA, Weymouth MA: 'NASA Exploration Experience,' interactive 3D traveling exhibit.

Sep 27 -Oct 1 — International Astronautical Federation, Czech Space Office, Prague, Czech Republic: '61st International Astronautical Congress.'

Sep 27-Oct 1 — International Institute of Space Law, Prague, Czech Republic: 'Manfred Lachs Space Law Moot Court Competition: 2010 World Finals / IISL Space Law Colloquium.'

Sep 27-Oct 1 — Max Planck Institute for Radioastronomy, Bonn, Germany: '1st European Single Dish School in the Era of Arrays.'

Sep 27 — Cassini OTM-263, Saturn Orbit: Spacecraft conducts Orbital Trim Maneuver #263 today.

Sep 27 — Moon: 1.5° SW of Pleiades; 18:00.


Sep 27 — Sextantid Meteors: Daytime meteor shower with average radiant of α=153°, δ=-2° lasting till Oct 9.
---
Continued from . . .

Sep 12 — International Astronomical Union, Byurakan Astrophysical Observatory, Byurakan, Armenia: '32nd International School for Young Astronomers (ISYA-2010);' through Oct 2.
---
TUESDAY

Sep 28 — NASA Advisory Council, Moffett CA: 'NAC Information Technology Infrastructure Committee Meeting.'

Sep 28-30 — ESA, Noordwijk, The Netherlands: '11th Workshop on Simulation for European Space Programs / Electrical Ground Support Equipment Workshop.'

Sep 28 — Asteroid (Near-Earth Flyby): 2010 RD130 (0.036 AU); 2002 TZ57 (0.064 AU).

Sep 28 — Moon: 7.8° N of Aldebaran; 15:00.

Sep 28 — Asteroid 477 Italia: Closest Approach to Earth (1.020 AU).
---
WEDNESDAY

Sep 29 — The SETI Institute, Mountain View CA: Colloquium Series Lecture: 'Lakes on Mars: Their Past, Present and Future Exploration,' Nathalie Cabrol.
---
THURSDAY

Sep 30- Oct 1 — Mars Exploration Analysis Group (MEPAG), Monrovia CA: '23rd Meeting of MEPAG,' community-based forum designed to provide science input for planning and prioritizing Mars exploration activities for the next several decades.

Sep 30 — Venus: 6.5° S of Mars; 23:00.

Sep 30 — Moon: At Last Quarter; 17:52.

Sep 30 — Asteroid 2009 SH2: Near-Earth Flyby (0.018 AU).
---
FRIDAY

Oct 1 — Deep Space, Exoplanets:  Scientists evaluating new mathematical analysis based on discovery of 490 exoplanets predict the 1st truly habitable exoplanet will show itself by early May 2011.

NET Oct 1 — CNSA, Launch Long March 3C / Change'e 2, Xichang, China:  Chinese Long March 3C rocket to launch China's 2nd lunar orbiter.

Oct 1 — International Academy of Astronautics, Berlin, Germany / Online: Deadline submission of abstracts for 8th IAA Symposium on Small Satellites for Earth Observation on Apr 4-8, 2011.'

Oct 1 — Canadian Space Society, Ottawa, Ontario, Canada: Deadline submission for 'Canadian Space Society Annual Summit' taking place Nov 19-21.

Oct 1 — Moon: 8.1° SSW of Pollux; 19:00.

Oct 1 — Asteroid (Near-Earth Flyby): 2010 SJ (0.050 AU); 2137032 1998 UO1 (0.082 AU).
---
SATURDAY

Oct 2— NASA, University of Texas-Pan American , Edinburg TX: 'Hispanic Engineering, Science and Technology (HESTEC) Week,' NASA Astronaut Lee Morin available for broadcast interviews Oct 1 and an educational presentation and autograph signing Oct 2.

Oct 2-9— Betchart Expeditions, Hawaii HI: 'Discover Hawaii Expedition,' tour of Galaxy Garden by John Lomberg, Onizuka Space Center, Imiloa Astronomy Center, Keck Observatory and stargazing on the summit of Mauna Kea.

Oct 2 — Moon: 8.1° SSW of Beehive Cluster; 19:00.
---
SUNDAY

Oct 3— Zero Gravity Corporation, Honolulu HI: Commercial weightless flight onboard G Force One.

Oct 3-8— American Astronomical Society Division for Planetary Sciences, Pasadena CA: '42nd Annual Meeting of the AAS DPS.'