Hawai`i Pacific Space Access: Location – Location – Location – Location
21st Century Prosperity & 2014 Hawaii Governor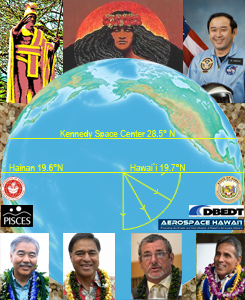 Forceful Vision, Pioneering Leadership, from Pele to Kamehameha to Onizuka have characterized the youngest, 50th, Aloha State from ancestral discovery by history's greatest explorers to reaching, aiming for the stars by Space Age heroes. Hawaii's rich and yet un-utilized geography assets offer promise for a peaceful, productive, profitable 21st Century. The Islands' remote, mid-ocean location enables commercially-prized, equatorial, sea-launching orbital access — the only such site between Space Coast Florida 7,500 km east and Hainan, China 9,700 km west; southernmost land of the USA, central Pacific civilization of Earth's most populous, dynamic hemisphere, and Mauna Kea astro / luna orientation constitute 4 unrivaled geostrategic advantages. For 2014 Hawaii Governor, Hannemann / Hawaii Independent and Davis / Libertarian provide brand new 21st Century alternatives to Aiona / Republican and Ige / Democrat. Hawaii education, policy, administration, business and culture leaders, and Hawaii State Government agencies such as DBEDT Dept of Business, Economic Development and Tourism, OAD Office of Aerospace Development, Univ of Hawaii at Hilo and Manoa, IFA Institute for Astronomy, PISCES Pacific International Space Center for Exploration Systems, HI-SEAS Hawaii Space Exploration Analog and Simulation, `Imiloa have great opportunity and responsibility to advance Aloha State 21st Century life forward and upward during the 2014 Hawaii Governor Campaign. (Image Credit: ILOA, NASA, H. Kane, M. Hannemann, J. Davis, D. Aiona, D. Ige, UH, PISCES, State of Hawaii, DBEDT, Aerospace Hawaii)
International Observe the Moon Night Celebrated Worldwide September 6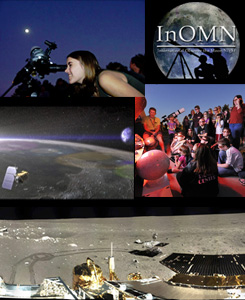 International Observe the Moon Night (InOMN) takes place Saturday September 6 when the Moon is in waxing gibbous phase to enhance visibility of lunar craters. It will reach perigee (357,986 km) on Sunday and become Full Harvest Moon / Super Moon on Monday. The InOMN organization is composed of scientists, educators and Moon enthusiasts from Lunar & Planetary Institute, LRO Public Education & Outreach, NASA Solar System Education Research Virtual Institute, Night Sky Network and others. In its 4th year, InOMN has ~300 events registered in more than 30 countries. The public is invited to observe and learn about its closest neighbor at the Lunar Reconnaissance Orbiter Camera Science Operations Center (LROC SOC) in Tempe AZ, Goddard SFC in Greenbelt MD, Wallops FF in Wallops VA, Astronomical Observatory in Santa Fe – Argentina, Funabashi Planetarium in Japan and the Institute of Space Technology in Islamabad – Pakistan. Highlighted this year will be the 45th Anniversary of the first humans on the Moon / Apollo 11, GLXP competition progress, USA commercial / China / Russia plans for human Moon missions, and data / resources from LRO, Chang'e-3 lander and Yutu Rover. (Image Credit: InOMN, NASA, CNSA, Chinese Academy of Sciences, D. Davis, K. Kremer, M. Lorenzo)
---


= All times for terrestrial events in local time unless noted.

= All times for international terrestrial events in local time unless noted.

= All times for space events, and…

= All times for international space / astro events in Hawaii Standard Time unless noted. Add 10 hours to obtain UT ('Universal Time;' Greenwich, England).
---
Weekly Planet Watch – Evening Planets: Mercury (W), Mars (SW), Saturn (SW); Morning Planets: Venus (ENE), Jupiter (ENE).
---
MONDAY

Sep 1 — ISS, LEO: Expedition 40 preparing for change of Command Sep 9 & three-person departure Sep 10; payload controllers at MSFC & Japan Tsukuba Space Center troubleshooting Kibo module CubeSat deployer.

Sep 1 — SPRINT-A, LEO: Scheduled end to spacecraft mission of extreme ultraviolet observations of Mercury, Venus, Mars, Saturn, Jupiter & moon Io; future goals / mission plans to be determined.

 Sep 1 — Rosetta, Comet 67P / Churyumov-Gerasimenko Orbit: Five candidate sites receiving 6 hours of sunlight per rotation being considered for Philae landing based on observations of flat terrain, potential of unique science discoveries.

 Sep 1 — Deep Space, Jupiter Trajectory: Juno spacecraft operating nominally in Quiet Cruise Phase, traveling at 54,638 kph, now 672 days from Jupiter & 650M km from Earth; has traveled 2.276B km.

 Sep 1 — Copenhagen Suborbitals, Copenhagen, Denmark: NewSpace company analyzing data / inspecting rocket after recent static test of HEAT2X rocket engine which ended in an implosion.


 Sep 1 — Effective Space Solutions, Givatayim, Israel: Hoping to develop, within 18 months, De-Orbiter spacecraft to change trajectory of satellites sent to wrong orbit, perhaps solve communications problems.


Sep 1 — Orbital Outfitters, Washington DC & CA, USA: Custom designing space suit for XCOR Aerospace Lynx space vehicle; working with Holder Aerospace to build vacuum chamber complex at Midland International Airport.


NET Sep — Thirty Meter Telescope Observatory Corp., Mauna Kea HI: Projected date for TMT site clearing on Mauna Kea.

Sep 1 — RSA, TBD, Kazhakstan: Photon-M descent capsule with scientific / biological experiments including geckos, silkworm eggs, dried seeds, fruit flies, mushrooms to return to Earth; launched to LEO July 19.

Sep 1-5 — Kavli Institute for Astronomy and Astrophysics, Mongolian Academy of Sciences, National University of Mongolia, Ulaanbaatar, Mongolia: Conference: Binary Systems, Their Evolution and Environments.

Sep 1-6 — International Astronomical Union, Beirut, Lebanon: MEARIM 2014: Third Middle-East and Africa IAU Regional Meeting.

Sep 1 — Asteroid 2014 QM266: Near-Earth flyby (0.028 AU).

Sep 1 — Asteroid 2014 QD3: Near-Earth flyby (0.043 AU).
---
Continued from…

Aug 23 – Sep 3 — Scientific Committee on Antarctic Research, International Council for Science, Auckland, New Zealand: 33rd Scientific Committee on Antarctic Research (SCAR) Biennial Meeting.

Aug 24 – Sep 14 — Aspen Center for Physics, Aspen CO: Workshop: The Galaxy-Halo Connection Across Cosmic Time.

Aug 25 – Sep 19 — Munich Institute for Astro- and Particle Physics (MIAPP), Munich, Germany: Workshop: Cosmology after Planck.

Aug 31 – Sep 5 — American Geophysical Union, Jeju, South Korea: AGU Chapman Conference on Low-Frequency Waves in Space Plasmas.

Aug 31 – Sep 14 — Aspen Center for Physics, Aspen CO: Summer Program: Radiation Driven Outflows in Stars and Quasars.
---
TUESDAY

Sep 2-6 — University of Hannover, Bruker Co., NKT Photonics, Bologna, Italy: 23rd International Conference on High Resolution Molecular Spectroscopy

Sep 2 — Moon: 8.5° N of Antares, 00:00.


Sep 2 — Asteroid 333578 (2006 KM103): Near-Earth flyby (0.050 AU).
WEDNESDAY

Sep 3 — AIAA – San Francisco Section, Mountain View CA: Dinner Meeting: Electric Propulsion Systems; presented by Dr. Tina Jameson.

Sep 3 — British Interplanetary Society, London, United Kingdom: Lecture: Life on Mars? – The European ExoMars Programme; presented by Abigail Hutty.

Sep 3-5 — National Centre for Nuclear Research (NCBJ), Department of Physics of the University of Warsaw (UW), Warsaw, Poland: Theory Meeting Experiment Symposium: Neutrinos and Cosmos (TMEX 2014).
THURSDAY

Sep 4-5 — Embratel Star One, Hispamar Satellites, SES, Thales Alenia Space, Rio de Janeiro, Brazil: Latin America Satellite Congress.
FRIDAY

Sep 5 — The Space Show, Tiburon CA / Online: Dr. David Livingston talks with Loretta Hall about her new book Space Pioneers: In Their Own Words.

Sep 5 — Space Center Houston, Houston TX: Lunch with an Astronaut, John-David Bartoe; US$49.95 adult.

Sep 5-7 — Mars Society Polska, ABM Space Education Austrian Space Forum, et al, Krakow, Poland: European Rover Challenge 2014.

Sep 5 — Venus: At perihelion (distance 0.7184 AU), 06:00; 0.73° NNE of Regulus, 08:00.

Sep 5 — Asteroid 2014 QT295: Near-Earth flyby (0.017 AU).

Sep 5 — Asteroid 2014 QP33: Near-Earth flyby (0.096 AU).
SATURDAY

Sep 6 — New Horizons, Pluto Trajectory: Spacecraft to be put back into hibernation today after 12 weeks of check outs, homing activities, measurements of Pluto & Charon brightness variations; expected to wake in Dec to prepare for Jul 14, 2015 Pluto / Charon encounter.

Sep 6 — International Observe the Moon Night Organization, Global: International Observe the Moon Night 2014.
SUNDAY

Sep 7 — Cassini OTM-390, Saturn Orbit: Spacecraft conducts Orbital Trim Maneuver #390 today.

Sep 7-12 — Europlanet Research Infrastructure, Cascais, Portugal: European Planetary Science Congress 2014.

Sep 7-12 — Meteoritical Society, Casablanca, Morocco: 77th Annual Meeting of the Meteoritical Society; at Hyatt Regency Casablanca.

Sep 7-13 — NASA, NOAA, Aquarius Underwater Laboratory, Key Largo FL: NASA Extreme Environment Mission Operations (NEEMO) 19; space analogue mission to test tele-mentoring operations for ESA, will include Jeremy Hansen (CSA), Randy Bresnik (NASA), Andreas Mogensen (ESA), Herve Stevenin (ESA).

Sep 7-13 — Science Center of Pedro Benasque Pascual, Benasque, Spain: Workshop on Cosmology and the Quantum Vacuum.

Sep 7 — Moon: At perigee (distance 357,986 km), 17:34.