Suborbital Scientist Training 3-Day Program Offered by NASTAR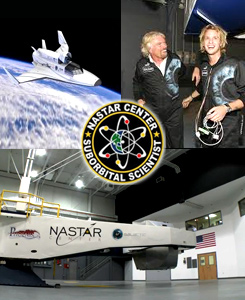 The National AeroSpace Training and Research (NASTAR) Center has organized a Suborbital Scientist Training Program on September 12-14 in Philadelphia PA. This program provides invaluable training to prospective 'Suborbital Scientist-Astronauts' who must endure the physiological and psychological rigors of spaceflight. NASTAR also serves a vital role for Commercial, NewSpace companies providing low-cost space access. NASTAR  presently serves as the official training provider to Virgin Galactic and has assisted nearly 200 people with space training. Day 1 begins with courses in Altitude Physiology followed by a high altitude flight to 5.49km. On days 2 and 3, participants will use the Space Training Simulator (STS-400) and perform tolerance flights at 3Gz, 3Gx, 6Gz, 6Gx to isolate the G vector forces as well as a 3G and 6G suborbital space flight. Participants must be 18 years of age or older and meet NASTAR simulator requirements as well as provide a current FAA Medical Class 3 Certificate. Pictured: Virgin Galactic CEO Richard Branson (TR-L) (Credit: NASTAR, Virgin Galactic)
UN Symposium to Support Basic Space Technology Capacity of Developing Countries
Space technology continues to advance, yet several developing countries still lack the human and technological resources required to reap the benefits of even the most basic space-related activities like meteorology, communications and natural resource management. The United Nations, with the support of the government of Austria and ESA, has organized the Basic Space Technology Initiative (BSTI) to promote the use of space technology and its applications for sustainable development.  The 3rd in a series of 3 BIST symposiums on Small Satellite Programs for Sustainable Development will take place on September 13-16 in Graz, Austria. The focus for this year's event is on "Implementing Small Satellite Programs: Technical, Managerial, Regulatory and Legal Issues." A series of invited technical presentations will cover topics such as small satellite programs world-wide, programmatic and managerial Issues, regulatory and legal issues, and working groups on the future of BSTI. Peter Martinez (L) of the National Research Foundation, South Africa, and Werner Balogh (R) of UNOOSA will give keynote addresses at the event. (Credit: ESA, UNOOSA)
---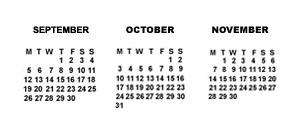 = All times for terrestrial events in local time unless noted.

= All times for international terrestrial events in local time unless noted.

= All times for space events, and…

= All times for international space / astro events in Hawaii Standard Time unless noted. Add 10 hours to obtain UT ('Universal Time;' Greenwich, England).
---
Weekly Planet Watch – Morning Planets: Mercury (E), Mars (E), Jupiter (S) / Evening Planets: Jupiter (ENE) Saturn (W).
---
MONDAY

Sep 12 — International Space Station, LEO: E-28 crew Cmdr Andrey Borisenko and Flight Engineers Alexander Samokutyaev and Ron Garan continue preparations for their departure and return to Earth in the steppe of Kazakhstan on Sep 16 aboard a Soyuz TMA-21 spacecraft.

Sep 12 — NASA Lunar Reconnaissance Orbiter (LRO), Lunar Orbit: All systems nominal in scientific phase of mission as LRO continues to make digital elevation and terrain maps that will be a fundamental reference for future human exploration.

Sep 12 — ESA Mars Express, Red Planet: Scientists continue to study recent imagery from spacecraft showing a 115 square kilometer delta in Eberswalde crater- an indication of Mars' past, wetter climate.

Sep 12 — Northrop Grumman Foundation, Washington DC: '2011 Weightless Flights of Discovery Program.'

Sep 12 — NASA, Black Point Lava Flow AZ: 'NASA Desert Research and Technology Studies,' media interview with Desert RATS team from 09:00-11:30 MDT.

Sep 12, 19 — Rice University, Houston TX: 'Houston We Have a Space Program,' featuring panelists Peggy Whitson, Franklin Chang Diaz, Jim Newman and Eileen Stansbery.

Sep 12 — Earth Observatory of Singapore, Nanyang Technological University, Singapore; Online: Conference registration deadline for '5th Asian Space Conference.'

Sep 12-14 — NASTAR Center, Philadelphia PA: 'NASTAR Suborbital Scientist Training Program,' provides researchers, professors and graduate students with hands-on space flight physiology training to prepare them to design experiments and perform research aboard commercial suborbital space flights.

Sep 12-14 — The National Academies, Washington DC: 'Meeting: Evaluation of Space Radiation Cancer Risk Model.'

Sep 12-15 — Applied Technology Institute, Cape Canaveral FL: 'Fundamentals of Orbital & Launch Mechanics,' Thomas Logsdon.

Sep 12-16 — Lunar and Planetary Institute, Fairbanks AK: '5th International Conference on Mars Polar Science and Exploration.'

Sep 12-16 — Euroconsult, Paris, France: 'World Satellite Business Week.'

Sep 12-16 — National Institute of Spatial Studies, Brazil Minister of Science and Technology, Sao Jose dos Campos, Brazil: '4th INPE Advanced School on Astrophysics: Radio Astronomy for the 21st Century.'

Sep 12 — Asteroid 2011 PS: Near-Earth Flyby (0.062 AU).
---
Continued from . . .

Sep 11 — South African Gravity Society, Rhodes University, Grahamstown, South Africa: 'South African Gravity Society Meeting 2011;' through Sep 13.

Sep 11 — UC Berkeley Center for Integrative Planetary Science, Center for Interdisciplinary Exploration and Research in Astrophysics, Moran WY: 'Conference: Extreme Solar Systems 2;' through Sep 17.
---
TUESDAY

Sep 13 — Kennedy Space Center, Alliant Techsystems (ATK), Cape Canaveral FL: NASA and Alliant Techsystems managers to announce agreement that could accelerate the availability of US commercial crew transportation capabilities at 15:00 EDT.

Sep 13 — US Space Walk of Fame Foundation, Titusville FL: 'Ask the Astronauts,' live interactive sessions with astronaut Gerald Carr.

Sep 13 — Bay Area Moon Society, San Jose CA: 'Bay Area Moon Society Meeting.'

Sep 13-16 — Maui Economic Development Board Inc, Maui HI: 'Advanced Maui Optical and Space Surveillance Technologies Conference 2011.'

Sep 13-16 — University of Colorado at Boulder, Goddard Space Flight Center, et al, Sedona AZ: '2011 Solar Radiation and Climate Experiment Science Meeting: Decadal Cycles in the Sun, Sun-like Stars, and Earth's Climate System.'

Sep 13-16 — United Nations Office for Outer Space Affairs, ESA, Graz, Austria: 'UN / Austria / ESA Symposium 2011: Small Satellite Programs – for Sustainable Development.'

Sep 13 — Asteroid 2062 Aten: Closest Approach to Earth (0.586 AU).
---
WEDNESDAY

NET Sep 14 — ILS, Launch Proton / QuetzSat 1, Baikonur Cosmodrome, Kazakhstan: An ILS Proton rocket with Breeze M upper stage set to deploy the QuetzSat 1 satellite to provide direct television broadcasting services to Mexico.

Sep 14 — The SETI Institute, Mountain View CA: Colloquium Series Lecture: 'Gravitational Wave Astronomy: A Peek Through the Window,' Paul Groot.

Sep 14 — Intech Science Center and Planetarium, London, England: 'Lecture: Collecting Rocks from Space,' Matthew Genge.

Sep 14-16 — US Geological Survey, Flagstaff AZ: '2nd Planetary Consortium Meeting.'

Sep 14-16 — COMSYS, London, England: '13th COMSYS VSAT2011 Conference: Space for Global Growth.'

Sep 14 — Moon: At Apogee (Distance 405159km); 05:00.
---
THURSDAY

Sep 15 — WM Keck Observatory, Kamuela HI: 2011 Astronomy Lecture Series: 'How I Killed Pluto and How It Had It Coming,' Mike Brown.

Sep 15-16 — Jet Propulsion Laboratory, Pasadena CA: The von Karman Lecture Series: 'From A to Z: Getting Curiosity to the Launch Pad,' Richard Cook.

Sep 15-16 — American Institute of Aeronautics and Astronautics, National Reconnaissance Office, Chantilly CA: '50th Anniversary Reception for the National Reconnaissance Office.'

Sep 15-17 — Kansas Cosmosphere & Space Center, NASA, Hutchinson KS: NASA traveling exhibit 'Driven to Explore,' featuring 4-billion year-old Moon rock.

Sep 15 — Cassini OTM-290, Saturn Orbit: Spacecraft conducts Orbital Trim Maneuver #290 today.

Sep 15 — Asteroid 2011 OS49: Near-Earth Flyby (0.037 AU).
---
FRIDAY

Sep 16 — Institute of Physics – Gravitational Physics Group, London, England: 'Lecture: Do We Understand Gravity?,' Mihalis Dafermos.

Sep 16 — Asteroid Near Earth Flyby: 2011 LJ19 (0.037 AU); 1991 TF3 (0.086 AU).

Sep 16 — Moon: 4.6° N of Jupiter; 07:00.
---
SATURDAY

NET Sep 17  — Arianespace, Launch Ariane 5 / Arabsat 5C & SES 2, Kourou, French Guiana: An Arianespace 5 ECA rocket, designated VA204 to launch the Arabsat 5C and SES 2 communications satellites which will provide communications and television broadcast services to the Middle East and Africa.

Sep 17 — Sally Ride Science, Fairfax VA: 'Sally Ride Science Festival,' featuring former NASA Astronaut Pam Melroy.

Sep 17-18 — Sky and Telescope, Celestron, et al, Pasadena CA: 'Pacific Astronomy and Telescope Show.'

Sep 17 — Moon: 2.6° S of Pleiades; 20:00.

Sep 17 — Asteroid 2011 PT: Near-Earth Flyby (0.055 AU).
---
SUNDAY

Sep 18 — Moon: 6.2° N of Aldebaran; 18:00.

Sep 18 — Asteroid 2007 VB: Near-Earth Flyby (0.081 AU).

Sep 18 — Asteroid 132524 APL: Closest Approach to Earth (1.055 AU).