Ansari and Garver to Discuss Importance of Exploration at TEDx Event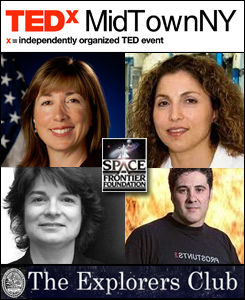 The premier of TEDxMidTownNY, a discussion featuring speakers dedicated to advancing space exploration and research, will be hosted at the Explorers Club HQ in New York  NY on September 14. Sponsored by Space Frontier Foundation, TEDx conferences promote 'ideas worth spreading' and provide the perfect venue for deep discussion and connection in small groups. Speaking will be Spaceflight participant and X-Prize Co-Founder Anousheh Ansari (TR) and NASA Deputy Administrator Lori Garver (TL). Ansari, the 1st astronaut of Iranian descent is also the world's 1st female private space explorer. She helped to advance commercialization of the space industry by providing title sponsorship for the Ansari X Prize, giving US$10million for the 1st non-governmental organization to launch a reusable manned spacecraft into space. Garver, also a commercial spaceflight proponent, began her role as deputy administrator on July 2009 and represents NASA to the Executive Office of the President, Congress, and international / external organizations and communities. The event will also feature videos by planetary scientist Carolyn Porco (BL) and UK stuntman Steve Truglia (BR) who will prepare to set a new record for extreme-high-altitude parachute jump from a balloon at 36,576m. Tickets are $20, $5 for students. (Credit: Space Frontier Foundation, TEDx, The Explorers Club, NASA, de.academic.ru, autotrade.co.uk)
2 Europe Meetings Explore Developments in Micro / Nanotechnology, Planetary Science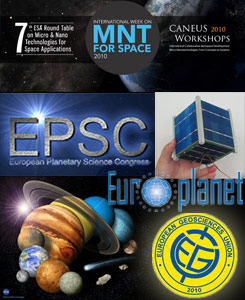 Over 250 experts from Europe, the Americas and Asia will gather at the ESTEC Center in Noordwijk, The Netherlands on September 13-17 for the '7th ESA Round-Table on MNT for Space Applications & 6th CANEUS Workshops.' Already widely used in Earth-bound applications, Micro and Nano Technologies (MNT) present important advantages for space systems like Earth observation, navigation, communication and scientific missions. Microsatellites have a wet mass between 10-100kg and nanosatellites have a wet mass between 1-10kg. At the workshop, Z Zhao and Zheng You of Tsinghua University, China will give a presentation on 'Micro-Nano Smart Systems for Space Application' while A Sesis and M Saavedra of the UK National Physics Lab will discuss 'Bio-Inspired Nanostructures for Spacecraft Materials.' On Sep 19-24, the European Geosciences Union and the European Planetology Network will host the 'European Planetary Science Congress 2010.' Set at the Angelicum Centre – Pontifical University of Saint Thomas Aquinas in Rome, Italy, the meeting will feature 48 sessions and workshops covering such subjects as terrestrial planets, magnetospheres, astrobiology and amateur astronomy. Around 550 scientists are expected to attend. (Credit: ESA, EPSC, EGU, EPN, NASA)
---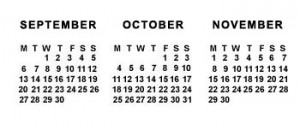 = All times for terrestrial events in local time unless noted.

= All times for international terrestrial events in local time unless noted.

= All times for space events, and…

= All times for international space / astro events in Hawaii Standard Time unless noted. Add 10 hours to obtain UT ('Universal Time;' Greenwich, England).
---
Weekly Planet Watch – Morning Planets: Jupiter (S) / Evening Planets: Venus (WSW), Mars (WSW), Saturn (WSW), Jupiter (ESE).

---
MONDAY

Sep 13 — International Space Station, LEO: E-24 crew to focus on arrival / unloading of Progress 39 after rescheduled launch last week.

Sep 13 — NASA Lunar Reconnaissance Orbiter (LRO), Lunar Orbit: Scientists continue to review the most detailed geologic map of Schrodinger basin, which combines topographic data from LRO's Laser Altimeter and data from earlier Clementine and Prospector missions.

Sep 13 — Mars Rover Opportunity, Red Planet: Opportunity continues on with long journey from Victoria to western rim of Endeavour Crater after passing halfway point last week (approximately 19km).

Sep 13-15 — American Institute of Aeronautics and Astronautics, Fort Worth TX: '13th AIAA / ISSMO Multidisciplinary Analysis Optimization Conference / 10th AIAA Aviation Technology, Integration and Operations (ATIO) Conference.'

Sep 13-15 — Space Telescope Science Institute, Baltimore MD: 'Workshop: The Delivery of Volatiles and Organics – From Earth to Exoearths in the Era of JWST.'

Sep 13-15 — University of Bologna, ESA, et al, Cagliari, Italy: '5th Advanced Satellite Multimedia Systems Conference / 11th Signal Processing For Space Communications Workshop.'

Sep 13-17 — ESA, CANEUS International Organization, Noordwijk, The Netherlands: 'International Week on Micro and Nano Technologies for Space 2010,' featuring 2 events: 7th ESA Round-Table on MNT for Space Applications / 6th CANEUS Workshop.

Sep 13-17 — International Astronomical Union, Buenos Aires, Argentina: 'IAU Symposium 275: Jets at all Scales.'

Sep 13-17 — Astronomical Society of Germany, Bonn, Germany: 'Annual Fall Meeting and 83rd General Assembly: Zooming In – The Cosmos at High Resolution.'

Sep 13-19 — Astronomical Spanish Society, Madrid, Spain: '9th Meeting of the Astronomical Spanish Society.'

Sep 13 — Mercury: 5.6° SE of Regulus; 02:00.

Sep 13 — Moon: 2.3° NNW of Antares; 19:00.

Sep 13 — Asteroid 19383 Rolling Stones: Closest Approach to Earth (0.971 AU).
---
Continued from . . .

Aug 31 — NASA Jet Propulsion Laboratory, Black Point Lava Flow AZ: NASA's Desert RATS – or Research and Technology Studies – on 13th trip to AZ desert for another round of analog testing; through Sep 15.

Sep 7 — University of Western Ontario Center for Planetary Science and Exploration, London, Ontario, Canada: 'Planetary Science Short Course,' a 7-day intensive modular course on planetary science; through Sep 15.

Sep 12 — International Astronomical Union, Byurakan Astrophysical Observatory, Byurakan, Armenia: '32nd International School for Young Astronomers (ISYA-2010);' through Oct 2.
---
TUESDAY

Sep 14 — The Explorers Club,TED Conferences, New York NY: 'TEDxMidTownNY: Importance of Exploration,' featuring speakers Anousheh Ansari and Lori Garver.

Sep 14 — American Institute of Aeronautics and Astronautics San Francisco, Moffett Field CA: 'Sofia Astronomers Return to the Stratosphere,' Sean Casey.

Sep 14-16 — Lunar Exploration Analysis Group, Washington DC: '2010 Annual Meeting of the Lunar Exploration Analysis Group.'

Sep 14 — Moon: At First Quarter; 19:49.
---
WEDNESDAY

Sep 15 — The SETI Institute, Mountain View CA: 'From the Earth to Mars: Lessons for Mars Science and Exploration from the Haughton-Mars Project, Devon Island,' Pascal Lee.

Sep 15 — JAKA Consulting Group, Juxtopia Group, et al, Washington DC: 'Space Entrepreneurship Forum: What are the Opportunities for African Americans in the Government's New Space Initiatives?'

Sep 15 — San Diego Astronomy Association, San Diego CA: 'CTX and MARCI: The Other Cameras Aboard the Mars Reconnaissance Orbiter,' Tanya Harrison.

Sep 15 — Cassini OTM-261A, Saturn Orbit: Spacecraft conducts Orbital Trim Maneuver #261A today.
---
THURSDAY

Sep 16 — Lunar and Planetary Institute, Houston TX: 'The Story of the Enceladus Plumes: Is There Liquid Water Underneath?,' Andrew Ingersoll.

Sep 16-17 — Jet Propulsion Laboratory, Pasadena CA: 'Lecture: Mars Science Laboratory – The Search for Habitable Environments,' John Grotzinger.

Sep 16-17 — NASA Outer Planets Assessment Group (OPAG), Boulder CO: 'OPAG Meeting.'

Sep 16-17 — InOMN Organization, Nationwide: 'International Observe the Moon Night,' 1st public outreach campaign dedicated to engaging the lunar science / education community, amateur astronomers, space enthusiasts and the general public.

Sep 16-18 — Smithsonian National Air and Space Museum, Washington DC: 'Flights of Fancy: Stories for Children – There Once was a Sky Full of Stars,' by Bob Crelin.
---
FRIDAY

Sep 17 — Federal Aviation Administration, Washington DC: 'Public Teleconference for the COMSTAC Space Transportation Operations Working Group.'
---
SATURDAY

Sep 18 — Jupiter: .81° SSE of Uranus; 14:00.
---
SUNDAY

Sep 19-24 — European Planetology Network, European Geosciences Union, Rome, Italy: 'European Planetary Science Congress 2010.'

Sep 19 — Asteroid 2010 RA: Near-Earth Flyby (0.084 AU).