Fleet of USA Orbiters Enhancing Human Understanding of Moon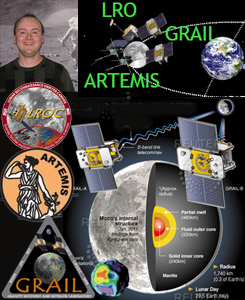 Five of the most advanced USA planetary spacecraft continue to gather valuable data about the Moon. NASA twin GRAIL spacecraft's extended science mission is expected to run from Aug 30 – Dec 3, 2012. In the extended mission the craft have halved their average operating altitudes to 23km, taking them within 8km of the highest lunar areas. This lower altitude is allowing GRAIL to provide researchers with unprecedented data of the gravitational influence of the Moon's surface and subsurface features. On Friday, Sep 21, Sam Lawrence (TL) of Arizona State University will be giving a LPI Seminar Series lecture in Houston TX on 'New Insights Into Lunar Geology from the Lunar Reconnaissance Orbiter Camera'. In mid September, LRO is completing the 2nd year of its Extended Science mission. The probe, and its 7 science payloads, are expected to continue operating from its 30 X 216-km quasi-frozen commissioning orbit for at least another year before finally running out of fuel and crashing into the surface. The twin Artemis orbiters are expected to continue studying the lunar magnetic field for another 6-9 years. (Image Credit: NASA, Olaf Frohn)
12th Australian Space Science Conference in Melbourne Next Week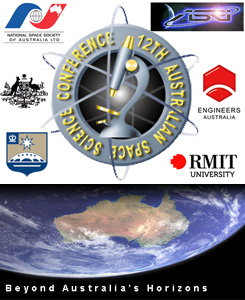 Presented by the National Committee for Space Science and the National Space Society of Australia on September 24-26, the 2012 Australian Space Science Conference (ASSC) is intended to provide the primary venue for Australian space scientists, engineers, educators and workers in industry and government to discuss ongoing fundamental and applied research related to space technologies. The conference is also being held in association with Engineers Australia 16th National Space Engineering Symposium and the National Committee for Radio Science with its Workshop on Applications in Radio Science. The conference covers space science, space engineering, space industry, space archeology, government / international relations and law, as well as education / outreach. Wayne Short and Iver Cairns are the Co-Chairs, representing the National Space Society of Australia and the University of Sydney respectively. The launch of WRESAT from the Woomera Test Range in 1967 made Australia the seventh nation to launch a satellite into orbit, and only the third to achieve this from its own soil. The ASSC signals the continuing resurgence of Australian interest, energy and action in space exploration and enterprise. Australia is preparing to send a strong delegation to the 63rd International Astronautical Congress in Naples, Italy this October, which will include representatives from government, industry, individuals, teachers and over 20 Australian students. (Image Credit: ASSC, ASSA)
---


= All times for terrestrial events in local time unless noted.


= All times for international terrestrial events in local time unless noted.


= All times for space events, and…


= All times for international space / astro events in Hawaii Standard Time unless noted. Add 10 hours to obtain UT ('Universal Time;' Greenwich, England).
---
Weekly Planet Watch – Evening Planets: Mars (SW), Jupiter (ENE), Saturn (WSW). Morning Planets: Venus (ENE), .
---
MONDAY

Sep 17 — ISS, LEO: Center for the Advancement of Science in Space (CASIS) is collaborating with Merck to conduct ISS research on therapeutic monoclonal antibodies – engineered proteins designed to increase specificity and decrease side effects of treatments.


Sep 17 — Curiosity, Gale Crater, Mars: The odometer clicking past 142 meters; the Mastcam instrument has made observations of the Martian moon Phobos passing in front of the Sun.

Sep 17 — FiberDyne Advanced Composites, Tukwila WA: Company to manufacture wing strake assemblies for the XCOR Aerospace Lynx Mark 1 suborbital reusable launch vehicle.


Sep 17 — Liftport, Uwingo, Online: Crowdfunding, a new source of engagement, optimism for NewSpace enterprises; Lofty ambitions of Liftport backed by netizens more than tenfold (goal – $8,000; pledged $110,354); Uwingu, a proposed private sector funding stream for Space grants raised over US$50,000 to get started.

Sep 19 —Starsem Launch Soyuz / MetOp B, Baikonur, Kazakhstan: Rocket to launch the MetOp B weather satellite for the ESA and the European Organization for the Exploitation of Meteorological Satellites, or Eumetsat.


Sep 17-19 — Trimble, Intergraph, Spatial Decisions, Bentley, Hanoi, Vietnam: 'Asia Geospatial Forum.'

Sep 17-20 —National Center of Scientific Research (France), Laboratory of Astrophysics of Marseille, Aix Marseille University, Marseille, France: 'Instabilities and Structures in Proto-Planetary disks.'

Sep 17-22 — International Space University, Isle of Man, United Kingdom: 'Executive MBA Program 2012: Module F.'

Sep 17-26 — International Space Weather Initiative, International Center for Space Weather Science and Education, Space Science Center (LAPAN), Bandung, Indonesia: '2012 ISWI & MAGDAS School on Space Science'

Sep 17 — Moon: 1.3° WSW of Spica, 17:00.

Sep 17 — Jupiter: Central for ongoing Solar System census. Sightings of comet or asteroid impacts like the one seen Monday, Sep 10 at 01:35 provide valuable census data, particularly of hard-to-study objects 100 meters across and smaller.

Sep 17 — Asteroid 48575 Hawaii: Closest Approach to Earth (2.167 AU).
---
Continued from…

Jul 1 – Dec 31 — American Institute of Aeronautics and Astronautics, Online: 'AIAA Short Course: Introduction to Space Flight,' Francis Hale.

Aug 30- Dec 3 — GRAIL Mission, NASA JPL, Lunar Orbit: NASA's Gravity Recovery and Interior Laboratory (GRAIL) mission Extended Science Operations.

Sep 15-23 — Byurakan Astrophysical Observatory, Armenian Astronomical Society , Byurakan, Armenia: 'Fourth Byurakan International Summer School for Young Astronomers.'
---
TUESDAY

Sep 18-20 — Johns Hopkins University / Applied Physics Lab, Laurel MD: 'In-situ Heliospheric Science Symposium.'

Sep 18 — Celestis, Houston TX: Launch Announcement of 'The Centennial Flight' at a ribbon cutting ceremony for new exhibit featuring Celestis at The National Museum of Funeral History.

Sep 18 — The Space Foundation, Washington DC: 'The Space Foundation Presents a Washington D.C. Salute to the 30th Anniversary of Air Force Space Command.'

Sep 18-21 — BELISSIMA, Astronomical Observatory of Belgrade, Belgrade, Serbia: 'International BELISSIMA Conference: Future Science with Metre-Class Telescopes.'

Sep 18-21 — Government of Austria, United Nations, ESA, Graz, Austria: 'Symposium on Data Analysis and Image Processing for Space Applications and Sustainable Development: Space Weather.'

Sep 18 — Moon: At Perigee (Distance: 365,754 km), 17:00.
WEDNESDAY

Sep 19 —AIAA San Francisco Section, San Francisco, CA: 'Commercial Space Ready For Takeoff, Finally!', Bruce Pittman.

Sep 19-21 — French National Research Agency – COSINUS, Astro-Particle and Cosmology Laboratory, Paris, France: 'Big Bang, Big Data, Big Computers – Workshop on Computer Science and Statistics of the Contemporary Cosmic Microwave Background Data Analysis.'

Sep 19-21 — The Planetary Crater Consortium, US Geological Survey, Flagstaff AZ: '3rd Planetary Crater Consortium Meeting.'

Sep 19 — Asteroid 2012 QG49: Near-Earth Flyby (0.084 AU).

Sep 19 — Asteroid 1998 FF14: Near-Earth Flyby (0.093 AU).
THURSDAY

Sep 20-21 — The National Academies, Division on Engineering and Physical Sciences, Washington DC: 'Meeting 5, NASA's Strategic Direction'.

Sep 20-23 — International Meteor Organization, La Palma, Canary Islands, Spain: 'International Meteor Conference 2012.'

Sep 20 — Moon: 5.7° N of Antares, 21:00.
FRIDAY

Sep 21 — Arianespace, Launch Ariane-5 / GSAT-10 / Astra 2, Kourou, French Guiana: India GSAT-10 and Luxembourg Astra 2F communication satellites set to launch on Ariane-5 rocket from Spaceport ELA-3 launch complex.

Sep 21 —Lunar and Planetary Institute, Houston TX: 'New Insights Into Lunar Geology from the Lunar Reconnaissance Orbiter Camera;' LPI Seminar by Sam Lawrence.
SATURDAY

Sep 22 — Sally Ride Science, Louisiana State University, Baton Rouge LA: 'Sally Ride Science Festival.'

Sep 22 — Langley Research Center, NASA, Hampton, VA: 'Langley Open House;' Meet an astronaut, watch a splash test, tour more than a dozen labs; 10:00am-4:00pm EDT; free and open to the public.

Sep 22 — International Observe the Moon Night Organization, Global: 'International Observe the Moon Night 2012.'

Sep 22-23 — SpaceUp, Genk, Belgium: 'SpaceUp 2012: Europe.'

Sep 22 — Fall / Autumn Equinox: The Sun crosses the equator into the southern celestial hemisphere; 4:47.

Sep 22 — Moon: 1st quarter; 09:41.
SUNDAY

Feb 10 — Cassini OTM-331, Saturn Orbit: Spacecraft conducts Orbital Trim Maneuver #331 today.

Sep 23-28 — Royal Aeronautical Society Australian Division, Engineers Australia, International Council of the Aeronautical Sciences, Brisbane, Australia: 'The ICAS 2012 Congress.'

Sep 23-28 — The Institute of Electrical and Electronics Engineers – Instrumentation and Measurement Society, San Francisco CA: '2012 International IEEE Symposium on Precision Clock Synchronization for Measurement, Control, and Communication.'

Sep 23-28 — Copernicus Meetings, Spain Center of Astrobiology, et al, Madrid, Spain: 'European Planetary Science Congress 2012.'