Sea Launch Return-to-Flight Reflects Advantages of Pacific Space Access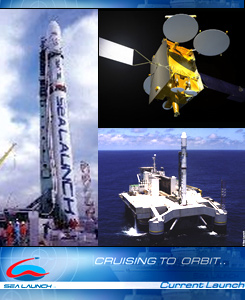 On September 22, a Sea Launch Zenit 3SL Rocket will take off from the ocean-based Odyssey Launch Platform located directly on the equator at 154° West longitude – due South of Hawaii. The mission will place the 4600kg communications satellite 'Atlantic Bird 7', built by Astrium, into a geostationary orbit at 7° W, a prime location for Eutelsat's digital broadcasting markets in the Middle East and North Africa. Sea Launch offers several advantages to its payload customers including superior value / cost advantages, a heavy lift capacity of more than 6100kg, a Pacific equatorial launch site that provides maximum lift capacity, and proven components from the world's premier companies such as Boeing and RSC-Energia. Sea launching technology has long been considered a potential provider of human Pacific space access, and if based in Hawaii it could become an ideal platform for space cooperation between Asia and America. This will be the company's 1st launch since April 2009. (Credit: Sea Launch, space.skyrocket.de)
1st Space Access 2011 International Conference in Paris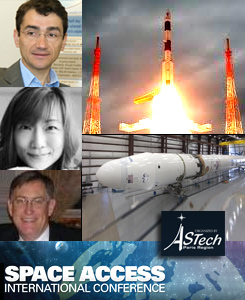 The 1st Space Access International Conference organized by ASTech Paris will be held in Paris, France, on September 21-23. Sponsored in part by the National Center for Space Studies and ESA, the premiere event will provide a forum for stakeholders, institutional strategists, agencies, and research organizations to address dependable and affordable access to space. The conference will feature 24 sessions on concepts, development, propulsion, and architecture systems of new generation launchers, as well as new approaches in space exploration. Several presenters include Misuzu Onuki (C) of the Space Frontier Foundation and Kent Rominger of ATK. There will be 4 special plenary sessions with JAXA scientist Shinya Ohkubo presenting on the H-3 launch system concept and NASA MSFC Engineering Director Dan Dumbacher (B) on upcoming human spaceflight plans for NASA.  SpaceX VP of Commercial Sales Christopher Bauer will be part of a Roundtable discussion on 'Which Breakthrough for Access to Space: Technological / Strategic / Economic / Political?' Other topics will include the diverse approach and evolution of China and India launchers, emerging space nations Brazil and South Korea developing space access capability and the future of Sea Launch after recent reorganization. Pictured: ASTech Paris Region President Alain Coutrot (TL). (Credit: ASTech Paris Region, ISRO, SpaceX, NASA, spaceweddingrings.com)
---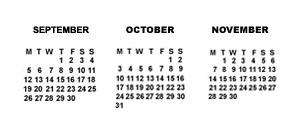 = All times for terrestrial events in local time unless noted.

= All times for international terrestrial events in local time unless noted.

= All times for space events, and…

= All times for international space / astro events in Hawaii Standard Time unless noted. Add 10 hours to obtain UT ('Universal Time;' Greenwich, England).
---
Weekly Planet Watch – Morning Planets: Mercury (E), Mars (E), Jupiter (S) / Evening Planets: Venus (W), Jupiter (ENE), Saturn (W).
---
MONDAY

Sep 19 — International Space Station, LEO: E-29 crew members Cmdr Mike Fossum  and Flight Engineers Satoshi Furukawa and Sergei Volkov continue onboard maintenance and science experiments as they await arrival of NASA astronaut Dan Burbank and Russian cosmonauts Anton Shkaplerov and Anatoly Ivanishin NET Nov.

Sep 19 — NASA Lunar Reconnaissance Orbiter (LRO), Lunar Orbit: All systems nominal in scientific phase of mission as LRO continues to make digital elevation and terrain maps that will be a fundamental reference for future human exploration.

Sep 19 — Mars Reconnaissance Orbiter, Red Planet: NASA spacecraft continues successful operations of capturing imagery from HiRISE Camera that shows banded features, dunes in Western Arabia Terra, colorful rocks in Terra Sabaea and a channel cut into an impact crater.

Sep 19-21 — University of Turku, Turku, Finland: 'Conference: Comets, Rocks and Life.'

Sep 19-23 — International Astronomical Union, University of Oxford, Oxford, United Kingdom: 'IAU Symposium 285: New Horizons in Time Domain Astronomy.'

Sep 19-23 — German Astronomical Society, Heidelberg, Germany: 'Annual Meeting of the German Astronomical Society: Surveys and Simulations – The Real and Virtual Universe.'

Sep 19 — Cassini OTM-291, Saturn Orbit: Spacecraft conducts Orbital Trim Maneuver #291 today.

Sep 19 — Comet P / 2011 R2 (PANSTARRS): Closest Approach to Earth (1.071 AU).
---
Continued from . . .

Sep 12 — Rice University, Houston TX: 'Houston We Have a Space Program,' featuring panelists Peggy Whitson, Franklin Chang Diaz, Jim Newman and Eileen Stansbery; through Sep 19.
---
TUESDAY

NET Sep 20 — Arianespace, Launch Ariane 5 / Arabsat 5C & SES 2, Kourou, French Guiana: An Arianespace 5 ECA rocket, designated VA204 to launch the Arabsat 5C and SES 2 communications satellites which will provide communications and television broadcast services to the Middle East and Africa.

Sep 20 — Space Frontier Foundation, MIT / Stanford Venture Lab, Stanford CA: 'Space Exploration: Not Just for Billionaires Anymore – The New Space Race is On! Companies are Launching in 10, 9, 8, 7…,' featuring panelists William Pomerantz, Jeffrey Manber, Bob Richards, and Al Tadros.

Sep 20 — NASA Headquarters, Washington DC: NASA to hold media teleconference at 13:00 EDT to announce the company that will lead the agency's Composite Cryotank Technologies Demonstration effort.

Sep 20 — US Space Walk of Fame Foundation, Titusville FL: 'Ask the Astronauts,' live interactive session with astronaut Robert Crippen.

Sep 20-21 — Langley Research Center, Hampton VA: 'Electron Beam Freeform Fabrication Forum.'

Sep 20-22 — The National Academies, Irvine CA: 'Assessment of NASA's Earth Science Program.'

Sep 20-28 — NASA, Virgina Beach; Charlottesville; Stuart; VA : 'NASA Driven to Explore / Touch the Moon in Virginia,' Public to have rare chance to touch a nearly 4-billion-year-old piece of Moon rock and learn about the solar system.

Sep 20 — Moon: At Last Quarter; 03:39.
---
WEDNESDAY

Sep 21 — The SETI Institute, Mountain View CA: Colloquium Series Lecture: 'SpaceX and the Dragon Spacecraft,' Abhishek Tripathi.

Sep 21-23 — ASTech Paris Region, Paris, France: '1st Space Access 2011 International Conference,' participants will discuss dependable and affordable access to space.
---
THURSDAY

NET Sep 22 — Sea Launch, Launch Zenit 3SL / Atlantic Bird 7, Odyssey Platform, Pacific Ocean: The Sea Launch Zenit 3SL rocket set to carry into orbit Eutelsat Atlantic Bird 7 communications satellite to provide digital broadcasting services over the Middle East & North Africa.

Sep 22 — Dryden Flight Research Center, Andrews Air Force Base MD: Media invited to tour and learn more about Stratospheric Observatory for Infrared Astronomy (SOFIA), a highly modified Boeing 747SP aircraft fitted with a 2.5m telescope at 12:00 EDT.

Sep 22 — Fall / Autumn Equinox: The Sun rises exactly in the east traveling through the sky for 12 hours and sets exactly in the west; Every place on Earth experiences a 12-hour day twice a year on the Spring and Fall Equinox; 23:06.

Sep 22 — Moon: 9.6° SSW of Pollux, 03:00; 4.6° SSW of Mars, 18:00.
---
FRIDAY

Sep 23 — International Lunar Observatory Association, Space Age Publishing Company, Scarsdale NY: 'Galaxy Forum Scarsdale High School: Galaxy Education in the 21st Century.'

Sep 23 — Excalibur Almaz (EA), Clear Lake TX: Open House event for students to view EA Reusable Return Vehicle at 08:30 CDT.

Sep 23 — Moon: 5.2° SSW of Beehive Cluster; 05:00.
---
SATURDAY

Sep 24 — NASA Upper Atmosphere Research Satellite: Decommissioned climate satellite launched on September 15, 1991 by Space Shuttle Discovery set to make an uncontrolled re-entry through the atmosphere with approximately 26 pieces of the 35-foot-long, 5681kg satellite to impact Earth.

Sep 24 — Sally Ride Science, Baton Rouge LA: 'Sally Ride Science Festival,' featuring former NASA Astronaut Wendy Lawrence.

Sep 24-28 — International Academy of Astronautics, Baia Chia, Sardinia, Italy: '4th IAA Symposium on Searching for Life Signatures.'

Sep 24 — Moon: 5.3° SSW of Regulus; 17:00.
---
SUNDAY

NET Sep 25 — RSA, Launch Soyuz / Glonass M, Plesetsk Cosmodrome, Russia: A Russian government Soyuz rocket set to launch a Glonass K navigation satellite.

Sep 25-29 — National Science Foundation, Astronomical Society of the Pacific, et al, Acadia National Park ME: 'Astronomy from the Ground Up: Sky Rangers Outdoor Astronomy Interpretation Workshop.'

Sep 25 – Oct 1 — Center for Lunar Science and Exploration, Winslow AZ: 'Meteor Crater Field Camp,' a week long field class and research project based at Barringer Meteorite Crater.

Sep 25 – Oct 1 — Observatory of Paris, ONERA, et al, Victoria, Canada: '2nd International Conference on Adaptive Optics for the Extremely Large Telescopes.'

Sep 25 – Oct 3 — NASA, Santa Rosa CA: 'Green Flight Challenge,' as part of the NASA Centennial Challenges competition.