Space Generation Council 2010 to be Held in Prague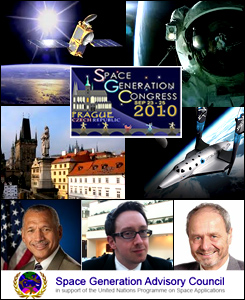 The Space Generation Advisory Council (SGAC) will hold the 9th Space Generation Congress (SGC) in Prague, Czech Republic on September 23-25. Approximately 100 selected young space professionals from over 30 countries  will converge at Charles University to focus on key space issues. This year's themes will center around industry, agency, climate, exploration and outreach. Attendees will discuss the new role of commercial space, collaborative space systems between countries, Earth observation data, human space exploration and developing science and technology education / careers for the new generation of space explorers. Invited SGC speakers include NASA Administrator Charles Bolden (BL), ESA International Relations Head Chris De Cooker, International Astronautical Federation President Berndt Feuerbacher (BR), Arianespace President Clayton Mowry, Space Frontier Foundation Executive Director Will Watson (BC) and International Space Services President Jim Zimmerman. The Czech Republic has gradually developed its own infrastructure for Space exploration, becoming the 18th member of the European Space Agency in 2008. Also held in conjunction with SGC 2010 is the 61st International Astronautical Congress on Sep 27-Oct 1. (Credit: SGAC, NASA, Virgin Galactic, inventor.com, )
USGS Helping to Advance Planetary GIS Research with 2 Workshops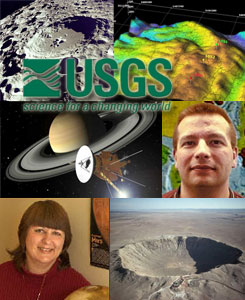 Researchers from the planetary mapping community will meet at the US Geological Survey (USGS) in Flagstaff, Arizona on September 20-21 for the 'GIS for Planetary Mappers 2' workshop. Participants will receive hands-on training in the uses of the innovative GIS systems such as ISIS3, ENVI and Quantum GIS. The goal of the workshop will be to demonstrate how to initiate, organize and implement 'best practices' for a digital planetary mapping project. Registration for the event is closed, as it is limited to 24 participants, yet interested parties can still sign up for the waiting list. The USGS will continue its planetary focus on Sep 22-24 as it hosts the '1st Planetary Crater Consortium (PCC) Meeting.' Formed in 2010 from the merger of the Mars, Lunar and Outer Solar System Crater Consortiums, the PCC is open to planetary scientists interested in any aspect of impact cratering on solar system bodies, including observational, theoretical, experimental and numerical modeling studies. Experts in the field will provide updates from current missions such as MESSENGER, LRO, Mars Odyssey, MER, MRO and Cassini. In 1 of 10 featured oral presentations, Nadine Barlow (BL) of Northern Arizona University and Scott Mest (CR) of the Planetary Sciences Institute will present their research on 'A New Database of Lunar Impact Craters.' Participants will have the opportunity to tour USGS and the nearby Meteor Crater. (Credit: USGS)
---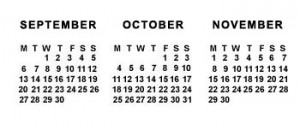 = All times for terrestrial events in local time unless noted.

= All times for international terrestrial events in local time unless noted.

= All times for space events, and…

= All times for international space / astro events in Hawaii Standard Time unless noted. Add 10 hours to obtain UT ('Universal Time;' Greenwich, England).
---
Weekly Planet Watch – Morning Planets: Jupiter (S) / Evening Planets: Mercury (E), Venus (SW), Mars (W), Jupiter (ESE).

---
MONDAY

Sep 20 — International Space Station, LEO: E-24 crew members continue with scientific experiments and maintenance while capturing imagery of hurricanes churning through the Atlantic as part of ongoing Earth observation.

Sep 20 — NASA Lunar Reconnaissance Orbiter (LRO), Lunar Orbit: LRO successfully transitions to scientific phase after completing a 1-year exploration mission in polar orbit (approximately 50km above the lunar surface); Scientific phase of mission to end in March 2011.

Sep 20 — ESA Mars500, 'Red Planet'/ Moscow, Russia: Mars500 crew continues to respond well to new phase of mission where 'delays' in communication will now be 2 minutes in each direction and will progress up to 20 minutes as simulation continues.

Sep 20 — United Launch Alliance, Launch Atlas 5 / NROL-41, Vandenberg AFB CA: ULA Atlas 5 rocket to launch classified spacecraft payload for US National Reconnaissance Office.

Sep 20 — Kennedy Space Center, Cape Canaveral FL: Media invited to cover space shuttle Discovery's last move from Vehicle Assembly Building (VAB) to Launch Pad 39A for upcoming Nov 1 launch.

Sep 20 — Association of Bay Area Governments, Moffett Field CA: News media invited to attend 'Moffett Field Bay Trail Grand Opening' dedication ceremony celebrating the opening of a segment of the San Francisco Bay Trail that connects Mountain View and Sunnyvale.

Sep 20 — NASA Advisory Council, Houston TX: 'NAC Education and Public Outreach Committee Meeting.'

Sep 20-21 — US Geological Survey, Flagstaff AZ: 'GIS for Planetary Mappers,' workshop to teach participants how to initiate, organize, and implement best practices for digital planetary mapping.

Sep 20-22 — International Astronomical Union, Paris Observatory, et al, Paris, France: 'New Challenges for Reference Systems and Numerical Standards in Astronomy.'

Sep 20-23 — Ames Research Center, Moffett Field CA: '10th Symposium on Overset Composite Grids and Solution Technology.'

Sep 20-24 — General Dynamics Information Technology, CNES, NASA, et al, Albuquerque NM: '11th Spacecraft Charging Technology Conference.'

Sep 20-24 — The University of Manchester, European Network, Manchester, United Kingdom: '10th European VLBI Network Symposium and EVN User's Meeting: VLBI and the New Generation of Radio Arrays.'

Sep 20 — Moon: 4.2° NNW of Neptune, 03:00; At Apogee (Distance 63.68 Earth-radii), 22:00.


Sep 20 — Asteroid 1997 GL3: Near-Earth Flyby (0.042 AU).
---
Continued from . . .

Sep 12 — International Astronomical Union, Byurakan Astrophysical Observatory, Byurakan, Armenia: '32nd International School for Young Astronomers (ISYA-2010);' through Oct 2.

Sep 19 — European Planetology Network, European Geosciences Union, Rome, Italy: 'European Planetary Science Congress 2010;' through Sep 24.
---
TUESDAY

Sep 21 — SHIFTboston, Online: New extended deadline for 'MOON CAPITAL Competition 2010;' winners announced Oct 21 at the Boston Center for the Arts 'Cyclorama.'

Sep 21-23 — ESA, Noordwijk, The Netherlands: '5th ESA Workshop on Tracking, Telemetry and Command Systems for Space Applications.'

Sep 21-24 — United Nations Office for Outer Space Affairs, ESA, Graz, Austria: 'UN / Austria / ESA Symposium on Small Satellite Programs for Sustainable Development: Payloads for Small Satellite Programs.'

Sep 21-25 — Africa Aerospace and Defense, Cape Town, South Africa: 'Africa Aerospace and Defense 2010: Rising to New Dimensions.'

Sep 21-25 — Yukawa Institute for Theoretical Physics, Kyoto, Japan: '20th Workshop on General Relativity and Gravitation in Japan.'

Sep 21 — Cassini OTM-262, Saturn Orbit: Spacecraft conducts Orbital Trim Maneuver #262 today.
---
WEDNESDAY

Sep 22 — The SETI Institute, Mountain View CA: 'Titan: Past, Present and Future,' Chris McKay.

Sep 22 — University of Southern California, Los Angeles CA / Online: Online information session about rapidly growing division of the Department of Astronautical Engineering.

Sep 22-24 — The Planetary Crater Consortium, Flagstaff AZ: '1st Meeting of The Planetary Crater Consortium.'

Sep 22 — Fall (Autumnal) Equinox: The sun crosses celestial equator and reaches the point where it crosses the equator into the southern celestial hemisphere; 17:13.

Sep 22 — Moon: 6.5° NNW of Jupiter, 18:00; 5.7° NNW of Uranus, 19:00; Full Moon, 23:18.

Sep 22 — Asteroid 4923 Clarke: Closest Approach to Earth (0.928 AU).
---
THURSDAY

Sep 23-24 — NASTAR Center, Philadelphia PA: 'NASTAR 2-Day Space Training Program.'

Sep 23-25 — Space Generation Advisory Council, Prague, Czech Republic: 'Space Generation Congress 2010,' the Global Space Congress for university students and young professionals interested in today's key space issues.

Sep 23-24— Royal Irish Academy, The Royal Astronomical Society, et al, Dublin, Ireland: 'The Transient Universe: From Exoplanets to Hypernovae.'
---
FRIDAY

Sep 24 —  Happy 80th Birthday to Apollo 16 Astronaut John Young!

Sep 24 — NASA, Air Force Research Laboratory, Moffett Field CA: Deadline for reduced conference fee ($575) for upcoming CRASTE event Oct 25-28.

Sep 24 — Lunar and Planetary Institute, Houston TX: 'Electrostatic and Magnet Cleaning of Lunar Dust Adhered to Spacesuits; Electrostatic Transport of Lunar Soil and Ice for In-Situ Resource Utilization; Mitigation of Lunar Dust Adhered to Mechanical Parts of Equipment Used for Lunar Exploration,' Hiroyuki Kawamoto.

Sep 24-26 — United Astronomy Clubs of New Jersey, Inc., Hope NJ: '2010 Astronomy Symposium.'
---
SATURDAY

Sep 25 — Valley Medical Center Foundation, Ames Research Center, Moffett Field CA: '3rd Take Flight For Kids: Reach Out and Touch a Cloud,' for youth interested in Science, Technology, Engineering and Math (STEM).
---
SUNDAY

NET Sep 26 — USAF, Launch Minotaur 4 / SBSS, Vandenberg AFB CA: The Air Force to launch 1st satellite for Space-Based Surveillance System aboard Minotaur 4 rocket.