Professional Gatherings in Italy Precede 63rd International Astronautical Congress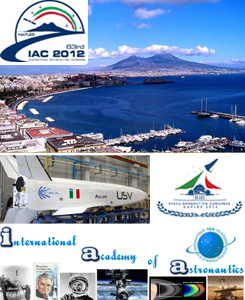 Accelerating buildup to the annual flagship spaceflight conference, the International Astronautical Congress, a number of preliminary events are taking place in the host city, Naples, Italy. On September 27-29 the Space Generation Advisory Council will host the 11th Annual Space Generation Congress for university students and young professionals. Endorsed by the United Nations Office of Outer Space Affairs, the SGC aims to hone and promote the voice of the next generation of space sector leaders on the topic of international space development. On Sep 28 the International Program / Project Management Committee and Workforce Development / Young Professional Committee are hosting a Young Professionals Workshop. The International Academy of Astronautics is hosting an Academy Day, in cooperation with the Pontifical Academy of Sciences on Sunday Sep 30. At the IAA Plenary Sessions there will be a Welcome Address by IAA President and former Chairman of the Indian Space Research Organization Madhavan Nair, as well as a talk on Lunar Laser Reflectors for First Moon-Light Timing & Navigation Applications. The IAF, coordinating body of the IAC, has 205 members in 58 countries including all leading agencies, space companies, societies, associations and institutes worldwide. (Image Credit: IAF, IAA, SGC, ASI)
Columbia Hosts International Astrobiology Conference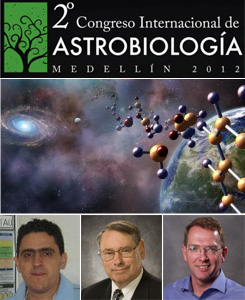 The 2nd International Astrobiology Conference will be held in Medellin, Colombia, on 24-28 September 2012. Sponsored by the Colombia Astrobiology Institute (a partner of the NASA Astrobiology Institute), the event will bring together National and International experts on planetary geology, biology, astrochemistry, oceanography and archaeoastronomy to explore and discuss the nature, origin, distribution and future of life in the universe. At the Conference, Pete Worden of NASA Ames will give a presentation on planetary geology, Dave Waltham of University of London will speak about constraints on Exoplanet Habitability, and Jorge Zuluaga of the University of Antioquia will present on the geophysical conditions for planetary habitability. The event is primarily intended for teachers, researchers and the general public interested in the field. Speakers will evaluate results and goals of current and future missions searching for signs of life in our solar system, and explore the potential for life among the ~10 Billion Earth-like planets that statistics predict to exist in our Galaxy. (Image Credit: Colombia Astrobiology Institute)
---


= All times for terrestrial events in local time unless noted.


= All times for international terrestrial events in local time unless noted.


= All times for space events, and…


= All times for international space / astro events in Hawaii Standard Time unless noted. Add 10 hours to obtain UT ('Universal Time;' Greenwich, England).
---
Weekly Planet Watch – Evening Planets: Mars (SW), Jupiter (ENE), Saturn (WSW). Morning Planets: Venus (ENE).
---
MONDAY

Sep 24 — ISS, LEO: Expedition 33 Crew, NASA, partner countries and SpaceX are preparing for the first of 12 commercial resupply and cargo return missions set for launch Oct 7 at 20:34 EDT from Space Launch Complex 40, Cape Canaveral, Florida.

Sep 24 — GRAIL Mission, NASA JPL, Lunar Orbit: Gravity Recovery and Interior Laboratory (GRAIL) mission continues Extended Science Operations; Aug 30-Dec 3.

Sep 24 — Juno Mission, NASA JPL, En Route to Jupiter: On course for gravity assist Earth flyby on October 9, 2013, after successful 30-minute main engine burn for Deep Space Maneuver-2 last Friday Sep 14 changed the spacecraft's velocity by 388 meters per second.

Sep 24 — Altius Space Machines, Louisville CO: Currently developing rendezvous and docking solutions using its Sticky Boom non-cooperative capture technology, for space stations, propellant depots, manned spaceflight, satellite servicing, etc; recently selected by NASA JPL to provide engineering services for Phoenix program.

Sep 24 — Reaction Engines Ltd, Abingdon, Oxon, UK: Company is pursuing single-stage-to-orbit capability with its SABRE (Synergetic Air-Breathing Rocket Engine) and SKYLON Space Plane projects; a petition is circulating in the UK public urging the government to support / incentivize the independent company.

Sep 24-26 — JAXA, NASA, ESA, Tokyo, Japan: 'Trilateral Safety and Mission Assurance Conference (TRISMAC 2012).'

Sep 24-27 — Italian Space Agency, Communications Research Center Canada, American Institute of Aeronautics and Astronautics, Ottawa, Ontario, Canada: '30th AIAA International Communications Satellite Systems Conference / 18th Ka and Broadband Communications Navigation and Earth Observation Conference.'

Sep 24-27 — National Committee for Space Science & National Space Society of Australia, Melbourne, Australia: '12th Australian Space Science Conference.'

Sep 24-28 — American Institute of Aeronautics and Astronautics, Tours, France: '18th International Space Planes and Hypersonic Systems and Technologies Conference.'

Sep 24-28 — Astrobiology Institute Columbia, NASA Astrobiology Institute, Medellin, Columbia: '2nd International Congress of Astrobiology.'

Sep 24-29 — ESA, Venice, Italy: '20 Years of Progress in Radar Altimetry Symposium.'
---
Continued from…

Sep 17-26 — International Space Weather Initiative, International Center for Space Weather Science and Education, Space Science Center (LAPAN), Bandung, Indonesia: '2012 ISWI & MAGDAS School on Space Science'

Sep 23-28 — Royal Aeronautical Society Australian Division, Engineers Australia, International Council of the Aeronautical Sciences, Brisbane, Australia: 'The ICAS 2012 Congress.'

Sep 23-28 — The Institute of Electrical and Electronics Engineers – Instrumentation and Measurement Society, San Francisco CA: '2012 International IEEE Symposium on Precision Clock Synchronization for Measurement, Control, and Communication.'

Sep 23-28 — Copernicus Meetings, Spain Center of Astrobiology, et al, Madrid, Spain: 'European Planetary Science Congress 2012.'
---
TUESDAY

Sep 25-27 — Arianespace, Space Systems Loral, Thales Alenia, Orbital Sciences, SpaceX, Seoul, South Korea: 'Asia-Pacific Satellite Communications, Broadcasting and Space Conference and Exhibition (APSCC 2012).'

Sep 25-27 — ESA, Venice, Italy: 'The Workshop on Simulation for European Space Programs.'

Sep 25-28 — The International Academy of Astronautics, San Marino, Italy: 'Fourth IAA Symposium on Searching for Life Signatures.'

Sep 25 — Asteroid 333578 (2006 KM103): Near-Earth Flyby (0.063 AU).
WEDNESDAY

Sep 26 — W.M. Keck Observatory, HPA, Waimea HI: 2012 Astronomy Lecture Series: Jessica Lu (UH) presents 'Stars Born in Extreme Environments—In Massive Clusters & Around Supermassive Black Holes,' Gates Performing Arts Center Auditorium, 19:00.

Sep 26 — Embassy of Canada, Washington DC: 'Canadian Space & Mining Industry Forum on Servicing, Repurposing and Mining of Space Resources & Reception to Celebrate the 50th Anniversary of Canada-NASA Collaboration.'

Sep 26 — Cassini Titan Flyby, Saturn Orbit: Spacecraft conducts flyby of Titan today; expected altitude of 656 kilometers and speed of 5.9 km per second.
THURSDAY

Sep 27 —Boeing, Astrium, Intelsat General, Orbital Sciences Corporation, et al, Washington DC: 'Hosted Payload Summit.'

Sep 27 — The British Interplanetary Society, London, England: 'The Impact of Sex in Space,' Saralyn Mark.

Sep 27-29 — Space Generation Advisory Council, Ercolano, Naples, Italy: 'The 11th Annual Space Generation Congress.'
FRIDAY

Sep 28 — The Subaru Telescope, Imiloa Astronomy Center, Hilo, HI: 'Moon Viewing Event Promoting the Scientific and Cultural Importance of the Moon.'

Sep 28 — International Program / Project Management Committee, Workforce Development / Young Professional Committee, Naples, Italy: 'Young Professionals Workshop.'

Sep 28 — Florida Institute of Technology, Melbourne, FL: Astronomy and Astrophysics Public Lecture Series: 'Why I Helped Kill Pluto–and Why It Had It Coming' a presentation by Dr. Terry Oswalt.

Sep 28-30 — United Nations, International Astronautical Federation, ESA, ASI, Naples, Italy: '22nd UN / IAF Workshop on Space Technologies Applied to the Needs of Humanity: Experience from Cases in the Mediterranean Area.'
SATURDAY

Sep 29 — Arizona State University, ASU School of Earth & Space Exploration, ASU Mars Education Program, NASA, Tempe AZ: 'Curiosity Has Landed In Your Classroom.'

Sep 29 — ʻImiloa Astronomy Center, Hilo HI: '2012 ʻImiloa Wayfinding & Navigation Festival.'

Sep 29 — Space Tourism Society, Los Angeles CA: 'Seminar: Space Experience Economy (SEE).'

Sep 29 — Moon: Full Moon (Harvest Moon), 17:13.

Sep 29 — Cassini, Saturn Orbit: Performing Orbital Trim Maneuver #332.
SUNDAY

Sep 30 — International Astronautical Federation, Naples, Italy: 'International Academy of Astronautics Academy Day.'

Sep 30 — Mars Reconnaissance Orbiter (MRO), Red Planet: End of Extended Mission

Sep 30 — Asteroid 2012 JS11: Near-Earth Flyby (0.071 AU).