Astrobiology Workshop to Focus on Europe Contributions, Collaboration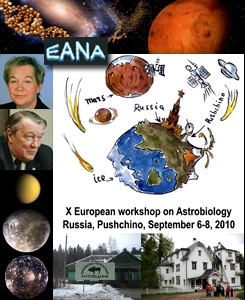 The European Astrobiology Network Association (EANA) will hold the 10th European Workshop on Astrobiology in Pushchino, Russia on September 6-8. The 3-day workshop will consist of 8 sessions featuring over 40 presentations by leading international astrobiologists as well as 35 poster sessions. This year's themes include experiments in space and simulated space environments, solar system exploration and astrobiology aspects of Mars, the Jovian moons (BL)  and Saturn Titan (TL), origins of early Earth, evolution of geo-biological systems as well as exoplanets, astrochemistry and planetary protection. Chaired by EANA president Gerda Horneck (T), the workshop will open with a speech from Pushchino Mayor Ivan Savintsev followed by Valery Kudeyarov, Anatoly Miroshnikov and Alexei Rozanov (B) of the Russian Academy of Sciences. A Round Table discussion, 'Future Aspects of Astrobiology World-wide,' will provide a platform for shared collaboration between EANA, NASA Astrobiology Institute, The International Astrobiology Society and the Astrobiology Society. There will also be 2 excursions planned to the Prioksko-Terrasny Biosphere Reserve (BC) and Polenovo Museum (BR). The Executive Council for EANA consists of national members presently representing over 17 European nations. (Credit: EANA, NASA, ESA, tula.rodgor.ru, astrobio.net)
SETI Institute Colloquium Series on NASA Flexible Path by David Korsmeyer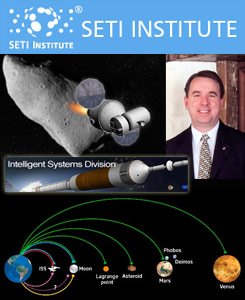 The mission of the SETI Institute is to explore, understand and explain the origin, nature and prevalence of life in the universe. To comprehensively achieve this mission, humanity must reach out to the stars through both astronomical observation and astronautical exploration. David Korsmeyer, Chief of the Intelligent Systems Division at NASA Ames Research Center, will be addressing the latter objective in his lecture on September 8 at the Carl Sagan Center in Mountain View CA. Dr. Korsmeyer led the Flexible Path Architecture Study for NASA in support of the 'Review of US Human Spaceflight Plans' Committee last summer. The flexible path architecture involves a series of missions with steadily increasing duration, distance from Earth and science capabilities that will help retire technical and operational risk, while sustaining public and political support as NASA prepares for the eventual human exploration of Mars. With more than 6,000 cataloged by mid-2009, Near-Earth Objects figure to offer a rich suite of exploration destinations for both robots and astronauts. Recent research indicates at least 9 NEOs could be reached with round-trip times anywhere from 150-180 days (assuming a 14-day stay at the asteroid). (Credit: SETI Institute, NewScientist, Digital Space)
---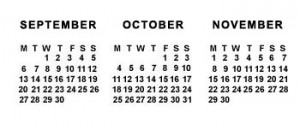 = All times for terrestrial events in local time unless noted.

= All times for international terrestrial events in local time unless noted.

= All times for space events, and…

= All times for international space / astro events in Hawaii Standard Time unless noted. Add 10 hours to obtain UT ('Universal Time;' Greenwich, England).
---
Weekly Planet Watch – Morning Planets: Jupiter (S) / Evening Planets: Venus (WSW), Mars (WSW), Saturn (WSW), Jupiter (ESE).

---
MONDAY

Sep 6 — International Space Station, LEO: E-24 crew prepares for arrival of Progress 39 which will deliver 2.5 tons of food, fuel and supplies.

Sep 6 — NASA Lunar Reconnaissance Orbiter (LRO), Lunar Orbit: LRO operating nominally in low polar orbit (50km) and continues to return global data of lunar surface.

Sep 6 — Mars Reconnaissance Orbiter (MRO) / ExoMars Spacecraft, Red Planet: Upgraded version of MRO Climate Sounder currently being developed for ExoMars mission NET 2016; Instrument to operate continuously from spacecraft's orbit (400 km) above the Martian surface with flexible pivot capabilities and able to measure temperature, water vapor, dust / ices for each 5 km increment in height throughout the atmosphere from ground level to 90 km altitude.

Sep 6 — Durham University, Durham, United Kingdom: 'Workshop: New Results in X-ray Astronomy 2010.'

Sep 6-8 — European Astrobiology Network Association, Pushchino, Russia: '10th European Workshop on Astrobiology.'

Sep 6-10 — Dark Skies Advisory Group, Lastovo Island, Croatia: '3rd International Symposium for Dark-Sky Parks and Camp.'

Sep 6-10 — European Astronomical Society, Lisbon, Portugal: 'Joint European and National Astronomy Meeting.'

Sep 6 — Moon: 4.4° SSW of Regulus; 22:00.
---
Continued from . . .

Aug 31 — NASA Jet Propulsion Laboratory, Black Point Lava Flow AZ: NASA's Desert RATS – or Research and Technology Studies – on 13th trip to AZ desert for another round of analog testing; through Sep 15.

Sep 5 — ESA, Noordwijk, The Netherlands: '3rd International Workshop on Analogue and Mixed Signal Integrated Circuits for Space Applications;' through Sep 7.
---
TUESDAY

Sep 7 — Purdue University, West Lafayette IN: NASA administrator Charles Bolden to deliver William E. Boeing Lecture 'Our Nation's Future in Space.'

Sep 7-10 — University of Exeter, Exeter, United Kingdom: 'Exoclimes Conference: Exploring the Diversity of Planetary Atmospheres,' meeting designed to bring together Earth, Solar System and Exoplanet specialists to discuss recent scientific data  and put Earth's climate in wider context of other planetary atmospheres.

Sep 7-15 — University of Western Ontario Center for Planetary Science and Exploration, London, Ontario, Canada: 'Planetary Science Short Course,' a 7-day intensive modular course on planetary science.

Sep 7 — Moon: 1.7° S of Mercury, 12:00; At Perigee (Distance: 56.00 Earth-radii), 18:00.
---
WEDNESDAY

Sep 8 — RSA, Launch Soyuz / Progress 39P, Baikonur Cosmodrome, Kazakhstan: Russia Progress 39 cargo spacecraft delivers supplies to ISS crew.

Sep 8 — Intech Science Center and Planetarium, Winchester, United Kingdom: 'Lecture: The Case for Our cosmic Ancestry,' Chandra Wickramasinghe.

Sep 8 — The SETI Institute, Mountain View CA: 'NASA's Flexible Path Architecture Study for Human Missions,' David Korsmeyer.

Sep 8-9 — Ames Research Center, Moffett Field CA: '2010 Aeronautics Research Mission Directorate Green Aviation Summit.'

Sep 8-9 — European Space Policy Institute, Vienna, Austria: '4th ESPI Autumn Conference.'

Sep 8-12 — European Institute for Sciences and their Applications, Corfu, Greece: 'Satellite Workshop on Non-communicative Field Theory and Gravity.'

Sep 8 — Moon: New Moon; 00:29.
---
THURSDAY

Sep 9 — Space Transportation Association, Washington DC: 'An Engineering Assessment of the Way Forward in Human Spaceflight,' featuring panelists Mike Griffin, Bob Dickman, Gary Payton and Scott Pace.

Sep 9 — Lunar and Planetary Institute, Houston TX: 'LPI Seminar Series: Hayabusa and Hayabusa 2 Missions and Space Weathering,' Takahiro Hiroi.

Sep 9-10 — University of Nebraska College of Law's Space and Cyber Policy, Washington DC: '4th UNL Space and Cyber Law Conference,' with 2nd day of conference focusing on USA national space policy as well as keynote address given by Deputy NASA Administrator Lori Garver.

Sep 9- 10 — Walk With Destiny, Glasgow, Scotland: 'Walk With Destiny Public Lecture with Apollo Astronaut Charlie Duke.'

Sep 9-10 — Technology Training Corporation, Washington DC: '2nd Annual Full-Motion Video Conference.'

Sep 9 — September Perseid Meteors: Bright stream of meteors radiating from constellation Perseus.

Sep 9 — Moon: 7.2° SSW of Saturn; 08:00.
---
FRIDAY

Sep 10 — Newseum, NASA, Washington DC: NASA to commemorate  quarter century of comet discoveries with educational event.

Sep 10 — Moon: 2.8° SSW of Spica, 14:00; 4.8° SSW of Mars, 18:00.
---
SATURDAY

Sep 11 — ShareSpace Foundation, Las Vegas NV: Buzz Aldrin book signing event and honor banquet at the Luxor Hotel.

Sep 11 — The Cincinnati Observatory, Cincinnati OH: 'ScopeOut Astronomy Fair.'
---
SUNDAY

Sep 12— Zero Gravity Corporation, Washington DC: Commercial weightless flight onboard G Force One.

Sep 12-Oct 2— International Astronomical Union, Byurakan Astrophysical Observatory, Byurakan, Armenia: '32nd International School for Young Astronomers (ISYA-2010).'

Sep 12 — Moon: .56° SE of Venus; 04:00.