ISS Expedition 40 / 41 Change Command While NEEMO Crew Advance Future Exploration Technologies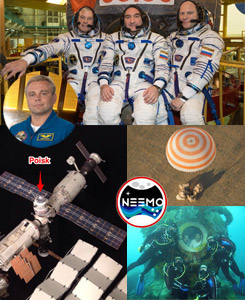 ISS Expedition 40 Commander Steve Swanson, along with cosmonauts Oleg Artemyev and Alexander Skvortsov will return to Earth on September 10 after spending six months aboard the station. A NASA TV-televised ISS Expedition 40 / 41 Change of Command Ceremony will take place at 21:15 UT on Tuesday Sep 9, leaving Maxim Suraev Commander of the station. Soyuz TMA-12M Commander Skvortsov will undock the craft from the Poisk module at 23:02 UT on Wednesday night, and the trio will make a parachute-assisted landing on the steppe of Kazakhstan less than 3.5 hours later. September will be a busy month at the ISS, as it will also see the arrival of a Dragon cargo capsule NET Sep 19. Along with crew supplies, Dragon will deliver the first 3D printer ever to fly in space. The remainder of the Expedition 41 crew will arrive to the ISS aboard Soyuz TMA-14M on Sep 25. Back on Earth aquanauts of the NASA Extreme Environment Mission Operations (NEEMO) are conducting EVA and engineering activities on the ocean floor to mature technologies and training techniques for use on the space station and in asteroid exploration. NEEMO 19, Sep 7-13, is focused on the evaluation of tele-mentoring operations for ESA.  The crew is living and conducting their operations at the Aquarius Lab, 19 meters below the surface of the Atlantic Ocean, 10 km off the coast of Key Largo, FL. (Image Credit: NASA, Roscosmos)
Association of Space Explorers 

XXVII

Planetary Congress to Discuss Human Space Exploration, Inspire People of Earth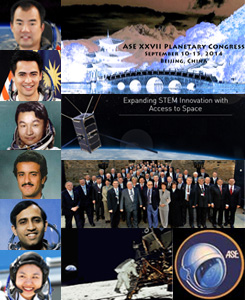 The 27th Planetary Congress of the Association of Space Explorers (ASE) is being held in Beijing, China on September 10-15. This year the theme is Cooperation: To Realize Humanity's Space Dream Together. Some of the 90 Astronauts, Cosmonauts and Taikonauts in attendance are Buzz Aldrin, Chris Hadfield, Sergey Ryazansky and Yaping Wang. It is hosted by Yang Liwei, Deputy Director of China Manned Space Agency and first Astronaut from China. ASE is a nonprofit organization to advance the exchange of space flight experiences and promote the benefits of space exploration and international cooperation. It has over 395 space explorers from 35 nations and operates 4 regional chapters in USA, Russia, Europe and Asia. Founding members of the Asia branch of ASE include (pictured left T-B) Soichi Noguchi (Japan), Sheikh Muszaphar (Malaysia), Jugderdemidyn Gurragchaa (Mongolia), Sultan bin Salman (Saudi Arabia), Rakesh Sharma (India) and Yi Soyeon (South Korea). The 28th Congress is set for Sep 20-27, 2015 in Stockholm, Sweden, and the 29th Congress will be in Vienna, Austria in 2016. ASE is partnering with ArduSat (Spire) to present the AstroSat Challenge ongoing until October 30, an opportunity for 15 proposed high school student experiments to be performed in space. (Image Credit: NASA, JAXA, ISRO, ANGKASA, Ardusat)

---


= All times for terrestrial events in local time unless noted.

= All times for international terrestrial events in local time unless noted.

= All times for space events, and…

= All times for international space / astro events in Hawaii Standard Time unless noted. Add 10 hours to obtain UT ('Universal Time;' Greenwich, England).
---
Weekly Planet Watch – Evening Planets: Mercury (W), Mars (SW), Saturn (SW); Morning Planets: Venus (ENE), Jupiter (ENE).
---
MONDAY

Sep 8 — ISS, LEO: Expedition 40 preparing for change of command, packing Soyuz TMA-12M; transferring cargo from ATV-5 & Progress 56; 3 crew members departing Sep 10 performing Lower Body Negative Pressure training.

 Sep 8 — Opportunity, Endeavour Crater, Mars: Heading toward 'Marathon Valley' an area with clay minerals; received extended mission funding along with LRO, MRO, Curiosity, Mars Odyssey, Cassini, NASA instrument aboard ESA's Mars Express.

Sep 8 — Rosetta, Comet 67P/Churyumov-Gerasimenko Orbit: Operating at 29-km altitude, may drop to 19 km & down to 10 km if conditions at 4-km wide comet allow; team planning to narrow Philae landing site down to 2 choices by Sep 15.

Sep 8 — Astroscale PTE. Ltd., Singapore: NewSpace company developing space debris incubating removal (ADR) technologies, promoting / advocating for space exploration benefits.

 Sep 8 — Flexure Engineering, Multiple Locations USA: Hosting 4th International LunarCubes Workshop Oct 7-10 in CA, building / testing products & instruments intended for Moon, Space, deep-sea environments.


 Sep 8 — NanoRacks LLC, Houston TX: Continuing attempts to deploy CubeSats (including Planet Labs Dove satellites) from non-performing CubeSat Deployers on ISS; will send new command box to ISS; next round of deployments set for 2015.

Sep 8 — The Space Show, Tiburon CA / Online: Dr. David Livingston talks with Dr. Kim Binsted about HI-SEAS Hawaii Space Exploration Analog and Simulation.

Sep 8-10 — Pakistan Space & Upper Atmosphere Research Commission, Institute of Space Technology, Inter-Islamic Network on Space Sciences & Technology, Islamabad, Pakistan: International Conference on Space (ICS-2014): Space for Development; Postponed.

Sep 8-10 — Kiel University, Kiel, Germany: Workshop: Planet Formation and Evolution 2014.

Sep 8-11 — Keck Institute for Space Studies, Pasadena CA: Workshop: Science and Enabling Technologies to Explore the Interstellar Medium.

Sep 8-12 — EuroConsult, SES, Arianespace, Lockheed Martin Corp., et al, Paris, France: World Satellite Business Week.

Sep 8-12 — European Organisation for the Exploitation of Meteorological Satellites (EUMETSAT), Johannesburg, South Africa: 11th EUMETSAT User Forum in Africa.

Sep 8-12 — Spanish Society of Astronomy (SEA), Teruel, Spain: 11th Scientific Meeting of the Spanish Astronomical Society.

Sep 8 — Moon: Full / Super Moon (Harvest Moon), 15:38.


Sep 8 — Asteroid 2014 QV295: Near-Earth flyby (0.066 AU).
---
Continued from…

Aug 24 – Sep 14 — Aspen Center for Physics, Aspen CO: Workshop: The Galaxy-Halo Connection Across Cosmic Time.

Aug 25 – Sep 19 — Munich Institute for Astro- and Particle Physics (MIAPP), Munich, Germany: Workshop: Cosmology after Planck.

Aug 31 – Sep 14 — Aspen Center for Physics, Aspen CO: Summer Program: Radiation Driven Outflows in Stars and Quasars.

Sep 7-12 — Europlanet Research Infrastructure, Cascais, Portugal: European Planetary Science Congress 2014.

Sep 7-12 — Meteoritical Society, Casablanca, Morocco: 77th Annual Meeting of the Meteoritical Society; at Hyatt Regency Casablanca.

Sep 7-13 — NASA, NOAA, Aquarius Underwater Laboratory, Key Largo FL: NASA Extreme Environment Mission Operations (NEEMO) 19; space analogue mission to test tele-mentoring operations for ESA, will include Jeremy Hansen (CSA), Randy Bresnik (NASA), Andreas Mogensen (ESA), Herve Stevenin (ESA).

Sep 7-13 — Science Center of Pedro Benasque Pascual, Benasque, Spain: Workshop on Cosmology and the Quantum Vacuum.
---
TUESDAY

Sep 9 — ISS, LEO: Change of Command Ceremony: Steve Swanson of NASA hands ISS command to Max Suraev of RSA,; live coverage available, 21:15 UT.

Sep 9 — Microvariability and Oscillations of Stars (MOST), LEO: Canadian Space Agency MOST satellite to measure oscillation in light intensity of stars to determine composition & age to be decommissioned today; launched 2003.

Sep 9 — Juno, Jupiter Trajectory: In solar conjunction, spacecraft is on opposite side of Sun as seen from Earth, communications will be limited.

Sep 9 — Keck Institute for Space Studies, JPL/Caltech, Pasadena CA: Lecture: An Interstellar Conversation; featuring Prof. Freeman Dyson, Dr. Mae Jemison, Prof. Ed Stone, Moderated by Dr. Leon Alkalai.

Sep 9-11 — International Academy of Astronautics, Samara State Aerospace University, RSA, State Research and Production Space-Rocket Center, et al, Samara, Russia: 3rd IAA – RACTs Conference on Scientific and Technological Experiments on Automatic Space Vehicles and Small Satellites.


Sep 9-11 — Polish Academy of Sciences, Krakow, Poland: 19th Annual Workshop on Radiation Monitoring for the International Space Station (WRMISS).

Sep 9-12 — Gaia Science Alerts Working Group, Warsaw, Poland: 5th Gaia Science Alerts Workshop.

Sep 9 — Asteroid 2013 RZ53: Near-Earth flyby (0.005 AU).

Sep 9 — Asteroid 2014 QQ362: Near-Earth flyby (0.059 AU).
WEDNESDAY

Sep 10 — ISS, Undocking of Soyuz TMA-12M, LEO: Expedition 39/40 members Swanson, Skvortsov, Artemyev depart ISS, scheduled to return to Earth 3.5 hours later.

Sep 10 — University of Arizona, Tucson AZ: Lunar and Planetary Laboratory Evening Lecture: A Comet Approaches Mars; presented by Dr. Roger Yelle.

Sep 10-12 — Space Angels Network, Los Angeles & Mojave CA: Members' Expedition; featuring tours of launch, space vehicle, propulsion, flight test & other space companies.

Sep 10-15 — Association of Space Explorers, Beijing, China: 27th Planetary Congress of the ASE.
THURSDAY

Sep 11 — Cornell University, Ithaca NY: Lecture: Sustainability and the Astrobiological Perspective – Framing Human Futures in a Planetary Context; presented by Prof. Adam Frank from Univ. of Rochester.

Sep 11, 12 — Jet Propulsion Laboratory, Caltech/NASA, Pasadena CA: Lecture Series: Studying Soil Moisture from Space – NASA's Soil Moisture Active Passive Mission; presented by Dr. Sam Thurman, Deputy Project Manager SMAP.

Sep 11 — Mercury: At aphelion (distance 69,817,326 km), 12:00.
FRIDAY

Sep 12-14 — University of Tennessee – Knoxville, Knoxville TN: 45th Annual Binghamton Geomorphology Symposium: Planetary Geomorphology.

Sep 12-14 — HawaiiCon Organization, Waimea HI: HawaiiCon; with panels featuring Space Tourism in Hawaii, Solar System Exploration, Astronomy, Asteroids, Exoplanets, Deep Space Voyaging.

Sep 12-20 — University of Utah, Institute of Theoretical Physics UAM / CSIC, Corfu, Greece: Workshop on Dark Energy.
SATURDAY

Sep 13 — Sacramento L5 Society – NSS Chapter, Sacramento CA: Meeting of the Sacramento L5 Society; at Rancho Cordova offices of JP Aerospace.

Sep 13 — Moon: 7.4° S of Pleiades, 20:00.

SUNDAY

Sep 14 — Mars Orbiter Mission (Mangalyaan) TCM-3, Mars Trajectory: Spacecraft to perform Trajectory Correction Maneuver #3 today.

Sep 14 — Moon: 1.4° N of Aldebaran, 15:00.


Sep 14 — Asteroid 2014 QZ295: Near-Earth flyby (0.026 AU).